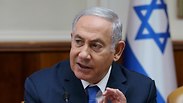 Prime Minister Netanyahu
Photo: Alex Kolomoisky
Netanyahu insists no minority rights harmed by Nationality Law
Prime minister explains Nationality Law provides 'constitutional balance for our national character,' adding law meant to ensure Israel 'would be not just democratic, but also the nation state of the Jewish people—and theirs alone,' and notes individual rights protected by other Basic Laws.
Prime Minister Benjamin Netanyahu stressed Sunday morning that the controversial Nationality Law will not hurt the civil rights of any Israeli citizen, and promised to strengthen the State of Israel's bond with the Druze community.

Over 90,000 Druze and others opposing the Nationality Law flooded Rabin Square in Tel Aviv on Saturday evening for the "Rally for Equality," calling on Netanyahu to nix the legislation or amend it.

"The laws of the state enshrined in Basic Law only individual rights, with no constitutional balance for our national character," Netanyahu explained at the beginning of the weekly Cabinet meeting. "We passed the Nationality Law to ensure the State of Israel would be not just democratic, but also the nation state of the Jewish people—and theirs alone."

The prime minister asserted this was needed "not just for our generation, but for the generations to come. Without the Nationality Law, we cannot guarantee the future of Israel as a Jewish nation state."

Listing what he said were the legislation's advantages, Netanyahu said the Nationality Law "first and foremost fortifies the law of return and raises it to another level. This law of course grants automatic right to Jews—and only them—to make aliyah and receive citizenship.

"The Nationality Law prevents, for example, the exploitation of the family reunification clause under which very, very many Palestinians have been absorbed into the country since the Oslo agreement, and this law helps prevent the continued uncontrolled entry into Israel of Palestinians. It could be that this law will also be able to assist us in blocking the future entry of labor migrants."

Seeking to assuage the minority groups feeling discriminated against by the law, the prime minister stressed that "The State of Israel is the national state of the Jewish people. Israel is a Jewish and democratic state. Individual rights are anchored in many laws including Basic Law: Human Dignity and Liberty. Nobody has harmed—and nobody intends to harm—these individual rights."

"The deep bond between the Druze community and our commitment to it are also essential," he added. "Therefore, today we will establish a special ministerial committee to advance this bond and this commitment and at the same time will appreciate those of all religions and all ethnic communities who serve in the IDF and the security forces."