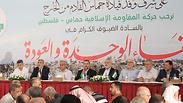 Hamas expresses optimism over UN brokered deal
Senior anonymous Hamas official expressed optimism regarding agreement with Israel to include: opening Rafah Crossing, easing conditions at Kerem Shalom, 5 year ceasefire between Israel, Hamas; return of the captives, complete end to incendiary kites, balloons.
A senior member of Hamas expressed optimism Tuesday evening regarding reaching an agreement for a cease fire with Israel brokered by the UN, Egypt and Qatar. He said that he expects negotiations to be completed by the end of August.

In an interview with Turkish media the anonymous Hamas official said that the agreement is set to cover the following items: the opening of the Rafah Crossing permanently and easing conditions at the Kerem Shalom Crossing; a five year ceasefire between Israel and Hamas; returning the bodies of Israelis and captives held by Hamas; a complete end to the launching of incendiary kites and balloons into Israel.



Earlier Tuesday it was reported that the Hamas delegation, headed by the organization's deputy leader Saleh al-Arouri, is scheduled to leave the Gaza Strip following the talks on a UN-brokered reconciliation plan with Fatah and a wide-scale ceasefire arrangement with Israel.

The delegation is expected to return to Cairo and issue an official response to the proposed agreement within 24 hours.

In the meantime, in an incident earlier in the day an IDF tank attacked a Hamas position near Beit Lahiya in the northern Gaza Strip, killing two members of the terror group's military wing.

The Hamas fighters had opened fire at IDF soldiers, prompting a retaliatory strike. The Gaza Ministry of Health provided a different version, reporting a drone strike. No Israeli troops were hurt in the incident.

The military group later issued a statement saying that the IDF attack happened during a military exercise showcasing the fighting capabilities of Hamas' naval commando unit.

IDF attacks manned Hamas post (באדיבות דובר צה"ל)

The statement also added that several Hamas leaders were present during the event and that the two Hamas members killed by Israeli forces were snipers.

The 9th Battalion of the 401st Brigade shelled the manned Hamas position with a Merkava Mark IV tank mere minutes after the troops came under fire. Unlike previous incidents, the IDF returned fired immediately, without waiting for Hamas personnel to evacuate the position.

The incident did not affect the construction of Israel's underground obstacle on the Gaza border, which continued near the area of the incident.

Hamas vowed to avenge its fighters, blaming Israel for the incident.

"We view Israel's attack of the al-Qassam Brigades' outpost, which caused the death of two fighters, very gravely," Hamas said in a statement. "The resistance will not accept a policy of attacking its positions and fighters without Israel paying the price."

The incident, as mentioned earlier, took place while a delegation of very senior Hamas officials was still in the Gaza strip to discuss a UN-proposed ceasefire agreement with Israel.