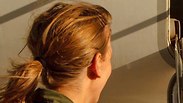 Maj. G.
Photo: IDF Spokesperson's Unit
Israel Air Force commander Maj. Gen. Amikam Norkin has appointed the first female commander to its intelligence squadson, the IDF said Tuesday.
Maj. G., 34, will command the IAF's 122nd Squadron, also known as the Nachshon Squadron, which takes part in covert aerial operations, hundreds and thousands of kilometers away from Israel. The unit uses G550 aircraft made by the Israel Aerospace Industries.
Maj. G. will be promoted to the rank of lieutenant colonel and will be the first woman in the Israeli air force to command a flight squadron.
She enlisted in 2003 and completed her training program as a cargo pilot. At the end of the course, she was assigned to the 135th Squadron ("Tzofit", "Hofit" and "Kokia") and later moved to 131st Squadron ("Rhino") and filled a variety of command positions at flight school and the 135th Squadron.
Maj. G., who lives in central Israel with her husband and children, will be moving with her family to the Air Force base in Nevatim, where the 122nd Squadron is based.
"I am happy about the appointment, it is a great privilege and a great responsibility. The real work is still ahead of me ... I am proud to serve in the air force," Maj. G. said.
The 122nd Squadron deals with various assignments—from sensitive missions transporting search and rescue teams to disaster areas around the world; through serving as command and control unit for missions between wars, such as foiling Hezbollah and Hamas attempts to gain advanced weapons; as well as conducting intelligence gathering using different radars, listening and monitoring devices, and day and night cameras, and the transmission of communications between the command and control units in Israel and the forces operating far from Israeli borders.
Most of the squadron's missions, however, remain covert, but its capabilities have only grown in recent years because of the great confidence the IAF has in manned intelligence aircraft over drones.
The intelligence aircraft are manned by air intelligence analysts who process and analyze the data that comes on their screens during a mission, oversee all of the units taking part in the mission in the field, and can provide real-time operational information to fighter jets, aerial refueling planes or other IAF aircraft. The fact the planes are manned is a critical factor in the success of an entire operation.
There are already female officers in command of aircraft and maintenance squadrons at the heart of IAF operations, as well as a female deputy commander of a combat squadron and several female officers in key roles at the IAF's command center. But Maj. G. would be the first to command a flight squadron.