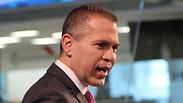 Minister Gilad Erdan
Photo: Avi Moalem
Erdan: There may be secret channels to talks with Hamas
Public security minister says he doesn't believe a broad long-term ceasefire agreement can be reached, but allows there may be talks the ministers have yet to be briefed on; notes early elections inevitable after High Court only gave gov't 3 month extension to pass new IDF draft law.
Public Security Minister Gilad Erdan said Wednesday he believes a broad, long-term ceasefire agreement with Hamas in Gaza will not be reached, but allowed that "there may be secret channels that even the ministers aren't aware of yet, and when a proposal arrives, we'll discuss it."

In an interview with Ynet, Erdan stressed that any agreement in Gaza "must include complete quiet," adding, "We will obviously not compromise on the continuation of incendiary balloons or kites, and of course (such an agreement) would have to include an end to the terror marches on Fridays."

"Our instructions and our policy is that there must be a strong and significant response to any violation of our sovereignty and any terror act that takes place in the strip against Israeli citizens," he explained.

"The fact that at the time we're also examining the possibility of reaching a peaceful resolution and quiet that would help the security of Gaza border residents—is a legitimate thing. It doesn't mean we'll agree to the long-term rehabilitation of the Gaza Strip without receiving a solution to the issue of our soldiers and citizens (being held by Hamas) and to preventing Hamas from gaining in strength," Erdan stressed.

After the High Court of Justice decided Tuesday to only give the government a three-month extension to pass a new IDF draft law—with the existing one set to expire at the end of that extension—Erdan said early elections were probably inevitable.

"It's less in our hands now," he admitted. "The chances of reaching a national unity government depends more on those who make ultimatums than on us. The Likud never boycotted and never said 'no' to partnership with Zionist parties willing to sit with us in the coalition."

If the coalition can't reach a majority to pass the proposed legislation, which was drafted by the defense establishment, "it definitely increases the chances of the elections being brought forward to February or March," he said.

At the same time, he insisted the existing version of the bill should not be changed. "The moment we agreed to support the model presented by the defense establishment, we cannot make any compromises. It's a balanced model that both allows those worthy to continue Torah studies, but at the same time insists on (enlistment) tracks and incentives," he said.

Despite that, he noted a solution will eventually be found. "I suppose we'll find the necessary balance in the coming years. Our partnership with the religious and Haredi public is super important. We'll do everything to preserve it," Erdan said.

He accused European nations of aiding Iranians in their human rights violations and terror funding by not joining the US in withdrawing from the nuclear agreement and reimposing sanctions on the Islamic Republic. "It emphasizes the European Union's moral bankruptcy."

The renewed sanctions "very much increase the chances the regime in Iran collapses and is changed."