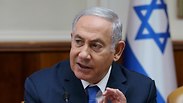 PM Netanyahu
Photo: Alex Kolomoisky
PM threatens snap elections if no solution found to IDF Draft Law
During coalition leaders meeting, Netanyahu gives ultimatum to call elections within two weeks in event that government fails to swiftly resolve coalition dispute over conscripting Haredim into the IDF, which for months has divided the government.
Prime Minister Benjamin Netanyahu warned on Sunday that if no solution is found to the IDF draft law, a date will be set within the next two weeks for national elections.

The ultra-Orthodox factions in the government coalition have so far refused to change their position on the issue and support the bill.

"The approval of an amended draft law is one of the central things that served as a base to the current coalition and government. We have no interest in elections, but we will no be able to compromise on the fundamental and essential thing of safeguarding the status of yeshiva students whose Torah is their work," said Deputy Health Minister Yaakov Litzman, who previously threatened to resign from the government should the law in its current version pass.

Litzman did note that "The different proposals will be brought for discussion to the Council of Torah Sages, which will decide on the matter. We will do as they instruct us."

The existing Israeli Defense Service Law was initially due to expire in September after the HCJ deemed it unconstitutional, meaning that the Knesset is obliged to pass an alternative law before then. Last week, the High Court of Justice (HCJ) gave the government a four-month extension to pass the new IDF draft law, setting the new deadline to December 2, 2018.

The HCJ majority ruling from 2017 canceled an amendment ratified by the Knesset almost two years prior to the Conscription Law which lowered the annual quota on the number of Haredim required to draft into the IDF.

The decision creates an unsolvable crisis which might trigger general elections in the first three months of 2019.