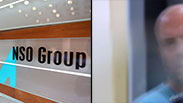 Yechiel Isakov has been identified as the former employee of cyber surveillance company NSO Group who has been charged with stealing intellectual property and trying to sell it for $50 million over the Darknet in a manner that could harm state security, Israel's Justice Ministry said.
Isakov, 38, was a senior programmer with access to the company's servers and proprietary tools, a ministry statement said.
The ministry said the accused, whose identity was not originally published, was called in for a hearing by NSO on April 24 before his dismissal, after which he downloaded software and information worth hundreds of millions of dollars.
"The defendant connected a portable storage device to the company's servers and downloaded the software, products and information, including the source code of the software, while circumventing the protection systems in the company's computers," according to his indictment. "The value of the company's products stolen by the defendant is estimated at hundreds of millions of dollars."
After copying the transcripts, Isakov then posing as a hacker on the darknet and contaced an unidentified individual, also posing as a hacker. Isakov then attempted to sell the information for $50 million in encrypted, untraceable virtual currency, the idictment added.
The potential buyer alerted NSO, which called in the police who arrested Isakov on June 5, the ministry said.
NSO, which has 500 employees and a valuation of at least $900 million, said that no intellectual property or company materials were shared with any third party or otherwise leaked and no customer data or information was compromised.
The company is best known as a supplier of mobile surveillance tools to governments and law enforcement agencies. The company was in the spotlight last year amid allegations that the Mexican government had used its Pegasus mobile spyware to target private citizens.
The Justice Ministry said that, according to testimony gathered in the case, the ex-employee's alleged actions "endangered NSO and could have led to its collapse" and also posed a threat to state security.