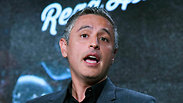 Another claim of humiliating Shin Bet questioning at border
Iranian-American writer Reza Aslan says he was detained upon arriving in Israel from Jordan with his family, accusing the Shin Bet of using 'police state tactics' against him, threatening him: 'We can make it so you don't see your kids for a long time.'
The outcry caused over the Shin Bet's questioning of American-Jewish journalist Peter Beinart at Ben-Gurion Airport earlier this week prompted American-Iranian author Reza Aslan to share a similar experience he went through at the Israeli border.

Beinart, who arrived in Israel on Monday for a family visit, was detained for an hour upon landing. He said he was sent to a small room where a security official asked about his political activities and whether he was involved in groups that advocate violence, threaten democracy or promote anarchy.

Beinart said he was then asked about his participation in a nonviolent West Bank protest two years ago.

Prime Minister Benjamin Netanyahu's office said that upon learning of Beinart's detention he immediately asked Israeli security officials what happened and was told it was an "administrative mistake."

The Shin Bet internal security service apologized for causing any anguish and said it was investigating the incident. The attorney general is also looking into the incident.

American-Iranian author Reza Aslan, 46, took to Twitter on Tuesday to describe a similar experience he had about two weeks ago.

"Peter's experience has spurred me to share mine," he wrote.

Aslan arrived in Israel with his wife, children and in-laws after a visit to Jordan. He was separated from his family upon arrival at the border and detained by the Shin Bet, who allegedly warned him: "We can make it so you don't see your kids for a long time."

The Shin Bet interrogator also allegedly told him: "You think because you're a public person I can't do whatever I want with you?"

"I was floored. This is how interrogations begin in police states," Aslan noted.

He then described the following exchange:

Shin Bet interrogator: "Why do you hate Israel?"

Aslan: "I don't hate Israel."

Interrogator: "But you hate our Prime Minister."

Aslan: "I'm sorry is your Prime Minister Israel?"

Interrogator: "He was democratically elected!"

Aslan: "So was Trump and I hate him and still love America."

Interrogator: "Oh I know all about you and Trump."

As an aside, Aslan notes to his Twitter followers: "I forgot the Israeli Right Wing's affection for our racist Neo-Nazi loving president."

"You don't think Israel should exist yes?" the Shin Bet interrogator then allegedly asked him.

"That's absurd. I'm against the occupation not Israel," he responded.

Then, he said, "the police state part began in earnest: Write down names of journalists you associate with. Write down names of Palestinian organizations you support. And constantly, repeatedly, this threat: 'if you don't cooperate it will be a long time before you see your kids again.'"

Aslan said he tried to cooperate as best as he could, but was accused of lying over every answer he gave.

He was then asked what his father did in Iran, and when he said he didn't know, explaining he was only seven years old when the family left, the Shin Bet interrogator doubted his honesty. "Oh Mr Scholar! You can tell me everything about the Ottoman Empire but you don't know your own father's history?"

Aslan said the interrogation lasted for hours, at the end of which the Shin Bet interrogator agreed to let him into Israel but warned him "I may let you into Israel but, who knows, I may not let you out. I will keep you here and kick out your family. It depends on you. You would miss your kids yes?"

She also warned him not to enter the Palestinian territories, not to meet with or speak to any Palestinians or any Israeli troublemakers, and concluded with: "We are watching you."

Aslan concluded his tweets with harsh criticism against Israel, "This was my 4th trip to Israel in ten years and every time it's gotten worse. It's becoming unrecognizable as a democracy. It is becoming a full-blown police state."

"And it can't last. When I was released my evangelical in-laws were in shock. 'I had no idea it was like this,' they said. Now they do. So do more Americans each day. And if Israel loses them, who will continue to shield it from pressure to change course? The clock is ticking," he cautioned.

The Shin Bet has yet to comment on Aslan's accusations.

Aslan emigrated from Iran to the US with his family in 1979 following the Islamic Revolution and the rise of the ayatollah regime. In his youth, he converted from Islam to Evangelical Christianity. He has been working to promote human rights and gender equality in Islamic nations while promoting religious tolerance.