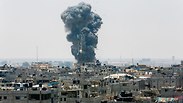 Former chief IDF prosecutor: 'Rafah's Black Friday' probe will stop int'l lawsuits
Col. (res.) Liron Libman says the rigorous military investigation into the events of August 1, 2014, when over 70 non-combatant Palestinians were killed, meets international expectations of a serious probe into alleged war crimes. However, there's no guarantee there won't be international charges brought against Israeli military and political leaders.
Col. (res.) Liron Libman, the former chief military prosecutor, said Thursday the four-year-long investigation into the events of what has been dubbed as "Rafath's Black Friday" was rigorous and will obstruct international courts from taking legal steps against Israeli defense and political leaders.

Chief Military Advocate General Maj. Gen. Sharon Afek has decided to close the case on the fighting that took place on August 1, 2014—in the midst of Operation Protective Edge in Gaza—without launching any criminal investigations against those involved in the deaths of over 70 non-combatant Palestinians.

The chief military advocate general also determined there was no justification to take steps against any of the officers who led the fighting in the Rafah area that day—such as reprimanding or not promoting them.

"No one can guarantee" there won't be international cases, Libman told Ynet, but "as far as international law is concerned, it is primarily the State of Israel's obligation to examine claims of war crimes or violations of fighting laws by Israeli civilians and soldiers.

"As long as the State of Israel carries out that obligation by conducting an independent, effective, serious examination that is in line with international standards—it blocks the ability to take steps at international courts or foreign nations' courts. The international court is meant to be a last-resort option, only if the state is unwilling or unable to handle the incident."

"It's not that the state has to prosecute someone," Libman clarified. "There's no need to sacrifice people here as scapegoats, but the examination and the investigation has to be serious and real."

He stressed, however, that even if Israelis do face charges at international courts, it would be senior members of the political leadership and the top IDF command. "Certainly not common soldiers, not even a company commander.... mostly heads of the IDF's commands, the IDF chief, the head of Military Intelligence, (and) the defense minister," he said.

He noted that "this kind of investigation is very complex. We're talking about investigating a battle that had many units involved, a lot of soldiers and a lot of fire. A lot of data needs to be collected from a lot of sources, it needs to be cross-checked, sometimes there's a need to go back and check again. There's no doubt there's a lot of work here."

"And yet, four years is a long time, you're right," he allowed. "There's no doubt the State of Israel is under a magnifying glass, certainly when it comes to the Israeli-Palestinian conflict, and I'm confident the goal was to leave no stone unturned, and this takes time."

To demonstrate just how in-depth the investigation was, Libman explained that "among other things, they checked specifically how much ammunition was fired and where. It turns out 1,000 artillery shells were fired at 31 places chosen ahead of time, over the course of four hours. This is one shell every eight minutes. That is measured fire."