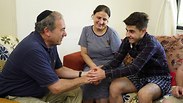 Rabbi Eckstein visiting a refugee family in Amman
Photo: IFCJ
Jewish donations save persecuted Christians in Mideast
12,000 Christians who fled from Iraq to Jordan because of ISIS were saved from death, but were left destitute. Help came from Israel, through The Fellowship. Rabbi Eckstein, president of The Fellowship, was asked to hide his kippah and remove the word 'Jews' from the sign at the medical clinic, but he is certain this is the bridge to peace: 'In the end, everyone will know that the aid comes from Israel.'
Carlos Barbar will never forget the moment he was saved from execution in the "Valley of Death" near Mosul, Iraq. On August 6, 2014, ISIS took control of his village Batnaya. The neighbors managed to flee, but Carlos' father wasn't able to walk and the family didn't have a car. The ISIS terrorists demanded that they decide whether to convert to Islam, pay huge fines or leave. Carlos asked his brother to leave, while he stayed behind to protect his parents.
One of the ISIS terrorists ripped the cross from his neck, threw it on the floor and demanded that he step on it. "I told him, 'I'll put my foot on your neck, but never on the cross. I have my God and he's also your God,'" Carlos recalls.
The barrel of a rifle landed on his head and he collapsed. When he woke up, he discovered that he was hanging from the ceiling by one leg. "They immersed my head in dirty water, beat me with a stick full of nails, tied me with wire and put salt on my wounds," he remembers and shudders. "I screamed in pain, they demanded that I promise to convert to Islam, but I said that I would be happy to die like a proud Christian."
He was brought to trial before an ISIS leader in the region who sentenced him to execution by firing squad. Six ISIS men took him to the "Valley of Death," the execution point. They blindfolded him and cocked their Kalashnikov rifles.
But then, suddenly, the group's commander's cell phone rang. On the other side of line was the man who had sentenced him to death. "Leave him and return immediately," he instructed. They dropped him to the ground, left the site and he lost consciousness. When he awoke, everything around him was white: "I thought I was in heaven. But then I saw a nurse and she told me: 'You're in a medical clinic in a church in Baghdad.'"
Carlos fled from Iraq and didn't return. Today, in a rented apartment in Amman, he's waiting for a response to his asylum applications, which he filed to Canada, Australia, and the US. His mother joined him, and they're paying for rent and food with the money they received for her jewelry. The money is running out.
Like Carlos, there are 12,000 Christian refugees living in Amman, Jordan's capital, who fled from Iraq. Jordan is indeed one of the only countries that has agreed to accept them, but they can't work and they live in abject poverty. Many of them suffered torture, lost relatives, and saw death stare them in the face.
This is also the case for Yitzhak Bahanam, a resident of the Christian village Bartella. In 2010, members of Al Qaeda kidnapped him because his brother was a soldier in the Iraqi army. He was beaten and thrown into a small, dark and filthy pit. "You'll never leave here alive," they told him before they closed and locked the cage with an iron door. They didn't leave him food or water.
Miraculously, three days later, a group of American and Kurdish Peshmerga soldiers received a report about him, came to the site, and rescued him.
The rescue was recorded on video and Isaac shows it to everyone as proof of the hell he experienced. In the video, you can see him being pulled out of the ground, handcuffed and trembling. He asks for a cigarette, lights it and cries.
I met Carlos and Isaac at the "Mother Maria Church" in Amman. The church, surrounded by a wall, is the only place of refuge for the Christian refugees in Amman. The church takes care of them, and tries to help them find asylum in the West.
Father Halil Jahar, a Palestinian from Bethlehem who once served as the priest at the church in Eilat, heads the "Mother Maria Church."
"You, the Jews, have suffered, you know what persecution is," he says.
Before the Christians arrived from Iraq, his church was empty. "On Sundays, 20-25 people would come for Mass, but today, thanks to the refugees, hundreds of Christian families come. The church has never thrived like this," he says.
On Sundays, the church distributes food. The refugees eat in the church courtyard and take meals home. They're all poor, but in Iraq, at another time in their lives, they would come to church in their Sunday Best. They kneel on the wooden benches and pray to God who delivered them from their homeland.
Envelopes with money at a church
A few weeks ago, two important guests came to the church: Rabbi Yechiel Eckstein, president of The Fellowship from Israel, and the British pastor Canon Andrew White, president of a charitable association that provides aid to persecuted Christians in the Middle East.
In recent months, The Fellowship started assisting 12,000 Christian refugees from Iraq who live in Jorden. Through White's association, The Fellowship donated $125,000 in food vouchers, money for rent and funding for the operation of a medical clinic and medicine.
Eckstein came to Jorden to film videos that will help raise more donations for them. In the church, the priest called out the names of all those present, approximately 100 people, and they approached the rabbi, who gave each of them an envelope with $150 in it.
At the same time, Rabbi Eckstein started a petition that will call on the UN Human Rights Council to recognize all of the 12,000 persecuted as refugees and grant them asylum in the West.
"This issue is important to our donors, to US Vice President Mike Pence and to the Christian Evangelicals in the US," says Rabbi Eckstein. "This is my vision and the vision of The Fellowship: to build bridges of peace between Jews, Christians and Muslims. I believe that peace will come from small deeds."
The Fellowship is one of the largest philanthropic organizations in Israel. It's funded by the donations of Christian supporters of Israel, many of them Evangelicals, and it raises approximately $140 million annually from donations. Two years ago, it began to assist persecuted minorities throughout the Middle East.
In Jordan, there are close to 1.8 million Syrian refugees and another 300,000 from Iraq. Why are you focusing specifically on 12,000 Christians?
"In Israel, we assist every Israeli, regardless of religion or ethnic or political affiliation. We began assisting Druze in Syria at the request of the leaders of the Druze community in Israel. The Christians are an important target audience for us, because our donors are mainly Christians who want to support the Jewish people, and we believe that we must assist the Christians when they are the ones being persecuted because of their religion."
Rabbi Eckstein turns to the audience in the church and asks: "How many people sitting here fled from ISIS?" They all raise their hands.
"Who wants to return to Iraq?" No hand is raised.
Eckstein asks: "Did anyone in the audience know Jews in Iraq?" Ten hands are raised. The older ones remember the Jews well. "We got along with them very well," they tell the Rabbi.
The Christian Likudnik from Baghdad
There's no one in Iraq who knows the Jews better than Reverend Canon Andrew White. For 17 years, since 1997, he was the Anglican Vicar of Baghdad. He personally knew Saddam Hussein and Tariq Aziz, Saddam's foreign minister, who was a Catholic Christian. After Saddam's fall, the Shiites arrived, after them, Al Qaeda, and finally, ISIS. The result was a mass flight. Today there are between 180,000 and 200,000 Christians remaining in Iraq.

Reverend White travels around Iraq surrounded by 35 bodyguards. He was wanted by ISIS, which set a $57,000 price on his head. In 2007, he was kidnapped and he paid $50,000 to be set free. In 2014, he was suspended from the church after it was revealed he was involved in the liberation of ISIS sex slaves with money donated by a Canadian Jew named Yossi Maman.

White is in love with Israel. He did one of his three doctorates at the Hebrew University in Jerusalem, while living for a whole year at an ultra-Orthodox yeshiva in Mea Shearim. He says that every Friday he was invited to a Tish (festive meal) with the Admor (Hassidic leader). His knowledge of Israel, Judaism and Hebrew attracted the few Jews of Iraq.

"Every Friday I would teach them the Torah portion of the week, basic Hebrew and Judaism. I made a Passover Seder for them and celebrated the Jewish Holidays with them," he recalls.

White witnessed the brutal acts of cruelty against the Christians. "If I tell you what they did, I'll start to cry," he says. "Nothing is like the Holocaust of the Jewish people, but the similarity is that they were persecuted for no reason, and that the world sat and did nothing. I think Israel is an amazing lesson for the world; I love you. I'm not one of the crazy Christian Zionists. I don't say what I say for Messianic reasons. I know that Israel isn't perfect."

In your opinion, what needs to be remedied?

"I won't tell you what you need to change, maybe I'm a Likudnik."

White, who runs a clinic for Christian refugees in Jordan, says that without the help of Rabbi Eckstein and The Fellowship, he wouldn't have funding to operate it. "I prayed to God to send me help, and he sent me Rabbi Eckstein," he says.

But not all the Christians know that the assistance comes from an Israeli-Jewish organization. Due to the instructions of the Jordanian authorities, The Fellowship was forced to remove the word "JEWS" from the sign in the medical clinic. Rabbi Eckstein was also asked not to walk around in Amman with a kippah, only with a hat.

"I'm willing to dispense with honor in order to help these people," he says, "because I know our donors want us to do this and this is the most moral thing we're doing at The Fellowship. We have been helping one hundred Druze families in Jordan for the past two-and-a-half years. There they also told me not to wear a kippah, but they know that the donation comes from a rabbi in Israel."

Eckstein believes that the State of Israel must take up the cause of the Christian refugees from Iraq, "Just as (Menachem) Begin had ordered the absorption of hundreds of refugees who fled the Vietnam War. In my opinion, Israel should consider absorbing Christian refugees who fled from ISIS," he says.
A professor living in poverty
The Iraqi refugees know that they won't be going home. More than anything, they want to be absorbed into a Western country and start to recover.
Fatan Eltaun bursts into tears when she tells how members of ISIS killed her eldest son, Sinan, because he worked at a pub. "The gunmen came to him at the pub and opened fire," she says with tears."
She, her husband Samir and their two remaining children, Asil and Suni, ran for their lives. "If I return," she says, "they'll kill my husband and my children. I miss Iraq, it's my country, it has good people and good food, but there are many murderers and criminals."
Eckstein leaves the church and visits homes. Yosef Sapa-Isa is only 17 years old, but he can't leave his home because of what the members of ISIS did to him. After they threatened his family, they set him on fire.
"I heard a terrible scream that I can't get out of my head; that was Yosef," his mother recalls in pain. "I called the neighbors, but no one came out. I tore my garment off and put out the fire."
Yosef was rushed to the hospital with severe burns, and after three days his family fled to Jordan. Rabbi Eckstein visited the meager apartment and brought them a food package. On the peeling wall hangs a picture of Yosef as a child in Baghdad, dressed up as Santa Claus.
He must undergo a series of operations following the burns, but the family has no money. "My dream is simply to be like everyone else," says Yosef, his young face is full of sorrow.
From there, the rabbi continues to the home of Najat Yaakub. In Iraq, she was a well-known philosophy lecturer at the University of Baghdad. Here she lives in a small, moldy and damp basement apartment.
Najat is 80 years old, but at her advanced age, she serves as the adoptive mother to her nephew's three children, all of them suffering from mental disabilities. Their parents were murdered one night in 2016, when two ISIS terrorists broke into their home.
"They wanted to take my nephew, to put an explosive vest on him and to send him out as a suicide bomber," says Najat in tears. "I begged them to leave the house. They left, but I knew they would return, so I decided to take everyone and to flee with them to Jordan. I don't believe that this is how I must live until the day I die."
Eckstein listens with great agitation. "Like many of the Christian refugees, they're living in limbo," he says. "The world must wake up and help them."