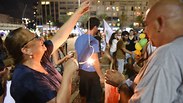 Flying an 'incendiary balloon'
Photo: TPS
Gaza border residents protest in Tel Aviv: 'We're not cannon fodder'
Israelis living near the Gaza Strip call on the government to restore their sense of security; 'We realized that if we didn't protest this lack of security policy, the government intends to leave us this way,' says protest organizer.
Residents of the Gaza border and their supporters protested in Tel Aviv on Saturday night, demanding the government to "restore the sense of security."

The protesters called out "We're not cannon fodder" and "Bibi, Bibi, wake up, the south is burning"—referring to Prime Minister Benjamin Netanyahu by his nickname.

They carried signs saying: "The south is on fire" and "We're tired of burned fields and weeping children."

The demonstration began at Rabin Square, with protesters then making their way on Ibn Gabirol Street toward Rokach Boulevard while sounding the Code Red rocket-alert siren and dropping to the ground as they do at home on the Gaza border when a real siren is sounded.

They also flew balloons in protest of the reality forced upon them of incendiary balloons from the Gaza Strip causing fires on their lands every day.

"We're protesting because of the lack of security," said one of the organizers, Alona Brown, from Kfar Aza. "We demand to have our sense of security restored, and this is a basic demand for life in any country, and particularly in Israel."

She went on to lament the fact that "over the past 17 years, we've been living from one round (of fighting) to the next. Our children grow up with existential anxieties. We realized that if we didn't protest this lack of security policy, the government intends to leave us this way—living from one operation to the next. Every time, Hamas or the residents of Gaza find a different way to disrupt our daily lives."

Yonatan Shamriz, 28, also from Kfar Aza, stressed that "the problem is not with the Gaza border communities, it's the government that has been neglecting the citizens in the area for 17 years. Every part of the population can get hurt. This is a protest that is relevant to all residents of the country."

"I come to the protest in an effort to unify all residents of the area—right wing, left wing, religious, seculars—under one clear message: We want quiet and security in our region," he added.

Gaza residents protest in Tel Aviv (צילום: ליהי קרופניק וקובי ריכטר/ TPS)

Ohad Madmoni, 28, from Sderot, said that one of the motives for the protest was to "tell politicians to start sitting and thinking about solutions for the security problems that we have here, that have been going on for many years."

Madmoni referred to a possible agreement with Hamas: "I don't take this talk about agreements so seriously, I remember in Protective Edge when they said that there's a ceasefire. But this protest doesn't have to do with this agreement. The situation with Gaza needs to be resolved now. We should not be a punching bag, like we have been for the past 14 months. Every day we experience another invention—incendiary kites and balloons. We don't deserve this."

The protest's Facebook page said: "the residents of the south continue to raise their voice, and invite all of Israel's citizens to express sympathy with the intolerable situation in the south and join the protest!"

The message went on to say: "The Israeli government has been drugging the residents of the south with numbing drugs: financial benefits, tax reductions, 'top priority region'... This is only part of what we were injected with in order to numb us to the situation."

"But if we wake up from the economic blur, we'll understand very quickly that we're hooked. We'd look and be amazed at how we had just sat here and let them do what they will with us."

"We'd be amazed of how we did not rise up as one and said that we are taking responsibility for our own lives and for our region," they concluded.