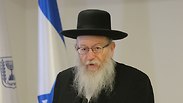 Dep Min. Litzman
Photo: Alex Kolomoisky
At the opening ceremony for the Ariel University Faculty of Medicine Sunday, Deputy Health Minister Yaakov Litzman spoke about the difficulty involved in keeping young Israeli doctors in the country.

"Two and a half months ago, I visited the United States and spoke with many Jewish physicians. Unfortunately, there are departments in which the majority (of doctors) are Israeli. I cannot tell a doctor, who receives a measly salary here in Israel, not to accept a more lucrative position in the United States," Litzman said.

He spoke about the efforts being made to keep medical practitioners in Israel by giving them full time employment and increasing their salaries.

"My consolation is that doctors who have spent a long time abroad return and serve as department heads here in Israel," Litzman added. "But we need them here day to day."

Dep. Minister Litzman also discussed the large disparity in medical care between the center and the periphery of the country. "The periphery is behind the center by a few years. This means that they live shorter lives. Even three years is substantial. We need to close the gap and I believe that by increasing the number of physicians we will succeed in doing just that"

Litzman said that the Health Ministry is working to increase the number of MRI and PET-CT machines in hospitals in the periphery of the country.

A month ago, the Council for Higher Education approved the establishment of Ariel University's medical school, which will join the existing five: University of Tel Aviv, Technion, Hebrew University, Ben Gurion and Bar Ilan University.
Critics: Hospitals can't absorb more students
Critics say that the medical industry is not yet ready to absorb additional medical interns. "The system cannot absorb more students as it is limited by the number of hospital beds necessary for the clinical studies that make up the last three years of medical training," said Hebrew University President Prof. Asher Cohen.

According to Prof. Cohen, "the opening of a new medical faculty will only cause damage and harm current students, in the quality of their education, patients, and the entire public health system," he said. "There will be insufficient placements at hospitals which might lead to lengthening their school year and the end result will not be more doctors.

"In order to increase the number of medical practitioners in Israel it is necessary to increase the amount of hospital beds required for clinical studies. Then, the existing medical faculties will be able to accept more students and train them as doctors. Any attempt to portray our resistance as political is incorrect," Cohen asserted.

Education Minister Naftali Bennett commented on the resistance to the opening of the new medical faculty: "Many sought to stop this and it must be said that there exists a university cartel in Israel. They sought to halt the establishment of the first private college in Israel as well… A year and a half ago we declared that a medical faculty will be established here and so it is."