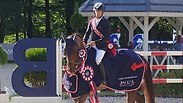 Dan Kramer
Credit: private
Israeli Equestrian rider Dan Kramer, who is scheduled to participate in the world championships next month, generated a controversy in the industry after announcing in a letter to the horseracing federation that he decided not to participate in the competition because it will take place on Yom Kippur.

The horse racing federation hopes to compete for the first time in history at the Olympic Games in Tokyo 2020, and convened a team that includes Kramer and four naturalized citizens: Daniel Bluman of Colombia, Alberto Michen of Mexico, and Americans Ashley Bond and Daniel Goldstein.

But if Kramer does not compete, the chances of the team obtaining entry to the Olympics will decrease as it is one of the most important ranking competitions.

The association's leaders were aware of the championship dates, taking place in South Carolina, but did not take action until an Israeli riding enthusiast sent a letter to the Culture and Sports Minister Miri Regev, warning her that the team intended to compete on Yom Kippur.

Subsequently, the head of the sports section of the ministry, Ofer Bustan, asked the chairman of the riding association, Kenny Lalo, whether efforts were being made to postpone the competition.

In response, Eli Haham, Director General of the riding federation, said: "The International Association of Sport Riding has announced that this is a complex issue on the technical and organizational level, but it is examining the appeal positively and is trying to do everything possible to find a suitable solution."

In any case, Kramer decided that he would not compete on Yom Kippur, and any attempts to persuade him to change his mind failed. Kramer, who currently resides in Belgium, wrote a letter to Lalo saying: "I decided not to join the other members of the Israeli national team and not to participate in the upcoming world championships in the United States, because the competition is taking place on Yom Kippur and I want to honor this day as well as the Israeli public and Jewish Diaspora.

"I think that it will be a serious mistake in judgment to compete on this holy day, despite the sporting implications of not participating in such a major and important competition that will hurt my international score and my, and my horse's, chances of reaching the Olympics. As far as I'm concerned, this is not a matter of personal choice. As a Jewish athlete and a proud Israeli, I do not intend to offend the sensitivities of the Israeli public and the Jewish world in general and compete on our holiest day," the letter continued.

"I do not intend to compete 'below the radar,' as has been hinted to me more than once in my conversations with key people in the federation, because I believe that every performance by an Israeli team should be a heart-warming affair that fills every Israeli and Jew with pride." Kramer also criticized the federation's conduct, arguing that efforts to postpone the competition began too late.
Encouragement from Chief Rabbi Lau
Kramer posted to Facebook about his ordeal ever since his decision as well as a conversation he had with Chief Rabbi Dovid Lau who provided him with encouragement for his decision to honor the Jewish holy day.

Rabbi Lau also said that he would try to assist the federation, in conjunction with Sports Minister Regev, to try to change the date of the championship.

Kramer said that since his conversation with the Rabbi he feels much more confident about his decision.

Kramer's announcement raised a dilemma for the team, which the rest of its members joined after the federation invested considerable effort and funds in convening the staff.

The other members themselves took different sides in the conflict. Daniel Bluman accused Kramer of making "serious and damaging accusations" in the Israeli media in an "attempt to get attention and recognition from the public by hurting us with defamation and inaccurate accusations."

"I am strong about our religion, Yom Kippur is a day that I always respected and fasted on," Bluman wrote in an internal correspondence. "Religion and tradition are personal things; an office or federation does not have to determine how we spend our Yom Kippur, we are free to decide. This is a championship that takes place once every four years and serves as a prelude to the Olympics. We cannot put our careers, our lives, in the hands of a ministerial decision."

In the same correspondence, Bond clarified: "There has to be a personal decision that is made by everyone independently." The riders even offered to compete and then go to synagogue.

The heads of the delegation tried to calm the riders and told them: "We are backed by the relevant authorities who approved us to go out and compete on Yom Kippur without being penalized. In any case, we hope that the competition will pass below the media radar."

"We are still waiting for the possibility that there will be a change. If there will not be,

It is possible that the riders will compete but not as Israel's national team," said Lalo.
No law forbids competing on Yom Kippur
"There is no written law forbidding us to compete on Yom Kippur, we searched everywhere… It was said that this is a government decision, which very well may be, but there exists no such documentation on the books, which began only 20 years ago.

"In fact, the decision whether to compete or not is up to the federation to decide, that is, the federation is allowed to determine that its athletes will not compete on Yom Kippur," said Haham.