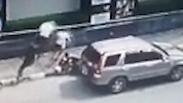 The Malul murder in Thailand
A court in Thailand sentenced two Israelis, Eyal Bokel—brother of Baruch Bokel, who heads a crime syndicate in Netanya—and Dolev Zuarez, to 25 years in prison for the murder of Israeli criminal Maor Malul in the island of Ko Samui, an inside source said Monday.

The two ran Malul over with a jeep and then stabbed him multiple times in January of this year.

This sentence is considered mild in Thailand, as the two could have gotten the death penalty for premeditated murder.

Video of the incident in which Malul was killed

Video documenting the murder shows a car hitting the moped Malul and his wife were driving. Malul is then seen getting up to help his wife, but then he runs back when the car reverses. A few seconds later, the car hits Malul, who is trying to escape.

Then a man wearing all black is seen coming out of the car with a knife, chasing him. This was likely the point Malul was stabbed. The attacker is then seen entering the car and escaping the scene.

Thai media reported that the two suspects abandoned their vehicle three kilometers from the scene, near Bophut Beach on the northern part of the island, and fled into a wooded area. The Thai press added that the police questioned two Israelis who were staying at the Ark Bar hotel, since the car was registered in one of their names.

Thai media further reported that Bokel and Zuarez had managed to take a motor boat from Ko Samui to Surat Thani, where they took a Thai Airways flight to Don Mueang International Airport in Bangkok. There they were arrested by Thai immigration police at around 10:30pm that same day.

A day later, the two were seen handcuffed and surrounded by Thai police officers. A video showed all their luggage spread out, while police forces surrounding them are being briefed. Another video showed three kitchen knives stained with blood, and another plastic knife.

Jacky Sagroun, the lawyer who represented Bokel and Zuarez in Israel, refused to comment.

In August 2015, Malul and an accomplice, Ron Shevach, attempted to assassinate Baruch Bokel, a Netanya criminal.

According to an indictment filed against them, Malul and Shevach ambushed Bokel as he headed home on his motorbike. Malul, who was driving a Toyota, accelerated and hit Bokel. Shevach, who was in the back seat, got out of the car with a loaded gun and wearing a mask.

Shevach and Bokel fought over control of the gun, which went off, with a bullet hitting Bokel in his left thigh. Still, Bokel managed to wrestle the gun away and remove Shevach's mask.

Bokel also fired a shot at the road "to make sure the gun worked" in case the two attacked him again, before being taken to the hospital in serious condition.

A few months before that assassination attempt, Avi Malul, the brother of Maor, was shot and killed in Kfar Yona.

Bokel's brother was also targeted by an explosive device, which seriously injured him. His Netanya business was also a target of arson.

In a plea bargain, Malul was convicted of assisting in aggravated battery and sentenced to only 20 months in prison. The case was lacking in critical evidence and the prosecutor was concerned the police's methods would be exposed during the trial.