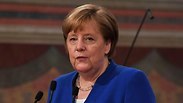 German Chancellor Merkel to visit Israel in October
Angela Merkel is expected to arrive in Israel for a two-day visit where she will meet with Prime Minister Netanyahu for a round of talks; The chancellor is due to receive an honorary doctorate degree from Haifa University and attend the Israel Museum.
German Chancellor Angela Merkel will arrive in Israel for an official visit at the beginning of October for the first time since February 2014, it was announced on Thursday.

The visit is due to take place on October 3 and 4, following Prime Minister Netanyahu's visit to Berlin last June, despite a tense relationship between the two leaders.

The chancellor is expected to visit the Israel Museum, along with Netanyahu, and receive an honorary doctorate degree from the University of Haifa at Springer Auditorium.

Merkel will also attend a technological innovation exhibition of six Israeli companies initiated by the Ministry of Foreign Affairs, and will tour the museum's exhibits. In honor of the visit, the museum will close its doors for the general public on October 4.

The Ministry of Foreign Affairs will compensate the Israel Museum with a total of NIS 60,000 for the event's hosting expenses, which include security, cleaning, and loss of income from the entrance fees due to the location being closed to the public.

All events with Merkel's participation will be held at the museum for security reasons, in order to ensure the area of the visit is as sterile as possible.

During the last meeting between Netanyahu and Merkel, the prime minister admitted that Israel was examining different options to prevent a humanitarian collapse in the Gaza Strip.

"Israel is the country that works the most to prevent a collapse in Gaza," he told reporters in Berlin in June.

Netanyahu also told Merkel the crisis in the Gaza the result of Palestinian President Mahmoud Abbas's poor handling of the situation and terror organization Hamas's decision to invest all of the aid money it receives in terrorism.

The prime minister's meeting with the German chancellor lasted over an hour and a half and included a broader forum with Israel's National Security Adviser Meir Ben-Shabbat, the Prime Minister's Military Secretary Brig. Gen. Eliezer Toledano, and Israel's Ambassador to Berlin Jeremy Issacharoff.