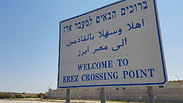 Erez crossing
Photo: Roee Idan
The Erez border crossing between Israel and Gaza will be reopened Monday, a week after it was closed because of the continued violent protesting on the strip's border and the ongoing threat of incendiary balloons.

Defense Minister Avigdor Lieberman decided Sunday to reopen the crossing after consultations with the IDF and other security bodies in light of the relative quiet on the Gaza border and the significant drop in unusual incidents over the last week.

The pedestrian crossing, which operates in a limited capacity, was closed a week ago in the wake of violence on the Gaza border, with only humanitarian cases allowed through.

Now, it will resume full activity, which includes the passage of some goods, but mostly patients in need of medical care outside Gaza.

Meanwhile, IDF Chief of Staff Lt. Gen. Gadi Eisenkot visited the Gaza Division's 143rd "Fire Fox" territorial division on Sunday, where he held a situation assessment with GOC Southern Command Maj. Gen. Herzi Halevi, the Coordinator of Government Activities in the Territories (COGAT) Maj. Gen. Kamil Abu Rokon, and the commander of the Fire Fox Division Brig. Gen. Yehuda Fuchs.

The IDF chief also toured the area of the territorial division, and stressed that the forces' professionalism led to many achievements and that they remain prepared for any development.