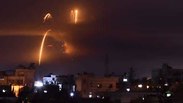 Loud blasts heard at Syrian air base; cause disputed
Syrian Observatory for Human Rights and Al Mayadeen news channel blame Israel for alleged overnight strike that was said to have left people killed and wounded at the Mezzeh airbase in Damascus, but Syrian military source says blasts were caused by short circuit, which triggered explosions of weapons depot.
Syrian state media said loud blasts coming from an airbase early on Sunday were from an explosion at an ammunitions dump caused by an electrical problem, but an official in the regional alliance backing Damascus said they were from Israeli strikes.

Opposition leaders claimed that a weapons depot situated in the Mezzeh airbase in the capital belonging to Syrian President Bashar Assad's army was the target of the the attack.

The airbase has been targeted in a number of airstrikes in recent years that the government has blamed on Israel.


The Syrian Observatory for Human Rights, which blamed Israel for the attack, reported that the strike left several people dead and wounded.

The Lebanon-based Al Mayadeen news channel also held Israel responsible for the attack.

However, Syria's official news agency, SANA, tweeted that a military official in Assad's army had said that the attack was not carried out by the Israel Air Force (IAF).

The state media quoted the Syrian military source as saying, "Mezzeh air base has not been exposed to any Israeli aggression."

Israeli officials did not immediately comment on the strike.

According to the official, the explosions were triggered as a result of a short circuit, which caused an explosion in the weapons depot near to the airbase.

Confusion remained rife despite the official's comments, with other media sources saying that the Syrian air defenses fired at an unidentified target.

Another official sid that the blasts were caused by Israeli missile fire from across the Golan Heights frontier between the two countries and by Syrian air defences responding.

Israel has previously acknowledged having carried out air strikes in Syria aimed at degrading the capacity of Iran and its allies, including Lebanon's Shi'ite Hezbollah terror group, which are backing Assad in the country's seven-year civil war.

The state-run Al-Ikhbariya TV station showed what appeared to be hand-held footage shot by residents of the capital capturing a string of bright explosions lighting up the night sky.

The blasts come at a tense moment, as Syrian government forces prepare to attack the last refuge of the opposition in the northwest of the country.

The US is warning Damascus against using chemical weapons in the battle, while Damascus alleges that the US is preparing to falsify a chemical attack to justify military operations on Syria.

The US, France, and the UK struck military installations around Damascus in April this year after a chlorine gas attack against rebels under siege outside the capital.

Reuters and the Associated Press contributed to this report.