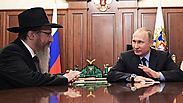 Rabbi Lazar with President Putin
The chief rabbi of Russia made a secret visit to Tehran almost half a year ago as part of a larger mission dispatched by Russia's President Vladimir Putin.

Rabbi Berel Lazar, who enjoys a close relationship with the Russian leader, was part of the delegation headed by Vyacheslav Viktorovich Volodin, who has served as chairman of the State Duma since 5 October 2016.


Lazar made the visit, which lasted a mere 24 hours, as part of a trip by the large Russian delegation which held a series of discussions in the Iranian parliament.

The decision to include Lazar in the Russian mission was personally taken by President Putin, a move that was met with opposition from Iran.

Despite the objections, Russia is said to have made the delegation's visit dependent on Lazar's participation as Tehran and Moscow seek to improve trade relations.

During the visit which took place on April 9, immediately after the Jewish holiday of Passover, Rabbi Lazar departed with one of his assistants, bringing with them kosher food for the plane journey.

Rabbi Lazar took the opportunity during his brief soujourn to pay a visit to Jewish community institutions in Tehran.

He visited the central synagogue in the capital, along with a Jewish school, which employs some Shi'ite Muslim women teachers who wear the Hijab.

Hanging on the walls of the Jewish schools were also biblical quotes in Hebrew, juxtaposed alongside portraits of Iranian Supreme Leader Ali Khamenei, an avowed enemy of Israel.

During his visit, Rabbi Lazar's activities were strictly restricted to assisting the Jewish community and to ensuring that Jews were able to observe laws of kashrut in the Shi'ite Islamic republic.

He met with Jewish community leaders in Tehran, heard of some of the difficulties faced by some of the members and watched Jewish children making their way to community centers to eat breakfast before beginning their day at school.