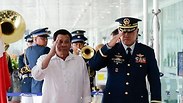 Rodrigo Duterte
Photo: EPA
Duterte in Israel, first visit by a Philippines president
Controversial Filipino leader who made contentious comments about Holocaust arrives in Israel for a visit where he receives a warm welcome from Israeli officials and Filipino community in Israel; President Duterte is expected to attend Yad Vashem Holocaust memorial and major economic events.
Rodrigo Duterte, who has stirred controversy with comments about the Holocaust in the past, received a warm welcome in Israel when he arrived Sunday for a four-day visit.

Ahead of his departure, Duerte said he "looks forward to broader cooperation on a broad range of mutually important areas—defense and security, law enforcement, economic development, trade (and) investments and labor."

Rodrigo Duterte in Israel (צילום: אלכס גמבורג)

Sales of Israeli weapons to his government are high on the agenda, according to Israeli media. Filipino officials have said the Philippines has recently acquired Israeli-made arms such as Galil assault rifles and pistols for its 120,000-strong police force, which is at the frontline of Duterte's battle against illegal drugs and other crimes.

Duterte will kick off his four-day visit by attending an event of the Filipino community in Israel Sunday evening. An estimated 28,000 Filipinos live in Israel, mostly as health aides.

A Filipino living in Israel, Lisa Levi, told Channel 10 TV that she is "excited" and "proud" he is visiting.

Speaking in Hebrew, she said "I wish I could hug him and thank him for everything he does."

She said her home country is safer now and that accusations of rights abuses are "untrue."

Duterte, who has stirred controversy with his foul-mouthed attacks on Barack Obama and even God, will receive a warm welcome in the Holy Land meeting Prime Minister Benjamin Netanyahu and other officials.

Duterte drew outrage in 2016 when he compared his anti-drug campaign to the Nazi genocide of Jews in World War II and said he would be "happy to slaughter" 3 million addicts. He later apologized.

President Duterte was officially welcomed by Minister of Communications Ayoob Kara.

"Welcome to the Land of Israel and to Holy Jerusalem—the capital of Israel. The people of Israel love you because you are a supporter of Israel. Your country was the only one in the East that supported Israel's independence and sided with us at the UN and UNESCO throughout the years," Kara said to the Philippines president upon his landing.

In contrast to the warm official welcome, Israeli human rights activists plan to protest the visit and have encouraged President Reuven Rivlin not to meet him over accusations of rights abuses at home.

Official Philippine police tallies place the number of suspects killed in police-led anti-drug raids at more than 4,500 since Duterte took office in June 2016.

International human rights watchdogs have cited far higher death tolls.

Duterte, a 73-year-old former government prosecutor, denies condoning extrajudicial killings but has openly threatened drug dealers with death.

Relatives of several people slain in the president's anti-drug campaign last week asked the International Criminal Court to prosecute him for alleged crimes against humanity, in the second such request for a ruling on thousands of deaths that have occurred during the crackdown.

Duterte's visit this week marks the first ever by a Philippine president to Israel since the countries established diplomatic relations in 1957.

He is scheduled to visit the Yad Vashem Holocaust memorial in Jerusalem on Monday and on Wednesday a monument commemorating the Philippines' rescue of Jews during the Holocaust.

The Philippines president will also participate in an economic event—during which, major deals between Israeli and Filipino companies are expected to be signed. The event will be held at a Jerusalem hotel where the president is staying throughout his visit.

On Tuesday, Duterte will visit the Magen David Adom (MDA) headquarters in Jerusalem, and will observe a simulation of an emergency situation.

The Filipino leader will then travel to Jordan for an official visit where he will meet with King King Abdullah.