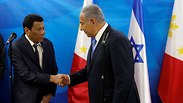 PM Netanyahu and President Rodrigo Duterte
Photo: Reuters
Netanyahu welcomes Philippines' Duterte to Israel
Welcoming Philippine President Rodrigo Duterte on his 4-day visit to Israel, PM says Israel remembers friendship that has 'blossomed over the years' as the two countries sign three agreements, with Duterte promising 'Israel can expect any help that the Philippines can extend.'
Prime Minister Benjamin Netanyahu has extended a warm welcome to controversial Philippine President Rodrigo Duterte, with the two leaders overseeing the signing of three agreements Monday in trade, science and care-giving.

Netanyahu highlighted the countries' long friendship, how the Philippines took in Jewish refugees after World War II and was the only Asian nation to vote for Israel's establishment.

"We remember our friends and that friendship has blossomed over the years and especially over the last few years," Netanyahu told Duterte.

"We mark that this is the first visit by a president of the Philippines in the history of Israel. It is deeply appreciated. We remember the exceptional role of the Philippines that received Jewish refugees during the Holocaust. We remember that the Philippines was the only Asian country that voted for the establishment of the State of Israel in the UN resolution in 1947," Netanyahu continued.

The prime minister praised the Filipino community living in Isael, many of whom work in the care-giving industry.

"We're going to sign here today three important agreements, in trade, in science and, no less important, in caregiving. There has been a remarkable phenomenon in Israel where thousands and thousands of families have taken heart from the support given by Filipino care workers to the elderly. I am one of those families, Mr. President," Netanyahu told the Filipino leader.

"My late father, who died at the age of 102, in his later years received incredible care by a caregiver from the Philippines, Lee, a woman of exceptional compassion and intelligence. She took care of my father's every need. And when he passed away, she took care of his brother's needs, until he passed away.

"I, like many, many Israeli families, am deeply moved by this show of humanity," he added before elaborating on the caregiving agreement that the two countries were poised to sign.

"And today we're going to sign an agreement that will knock off as much as $12,000 from the cost of every caregiver. This is money that is taken away from the caregivers and the families, the Israeli families who so want their service. This is an exceptional agreement and I think it heralds the kind of friendship that we are developing," he said before conclusing his remarks by again welcoming Duterte to Jerusalem.


Duterte has been accused of condoning human rights abuses in his deadly drug crackdown and has made controversial comments about the Holocaust.

The 73-year-old Duterte, a former government prosecutor who has repeatedly threatened drug dealers with death, says "Israel can expect any help that the Philippines can extend."

President Duterte, who has cursed everyone from former US President Barack Obama to God, arrived in Israel on Sunday for a four-day visit, making it the first Philippine presidential visit since the countries established diplomatic relations in 1957.

After meeting with Netanyahu and Israeli officials, Duterte will visit the country's Yad Vashem Holocaust memorial. He is also expected to sign a major oil deal and view an arms display.

His forces are accused of killing thousands in anti-drug raids since he took office in 2016. Duterte drew outrage that year when he compared his anti-drug campaign to the Holocaust, and himself to Hitler, saying he would be "happy to slaughter" 3 million addicts.

He later apologized. More recently, he forcibly kissed a woman on stage and said there would be many rape cases in a Philippine city "if there were many beautiful women."

Israeli human rights activists plan to protest the visit and have encouraged President Reuven Rivlin not to meet Duterte.

"Certainly there is no place for a mass murderer and a person who supports rape, shooting women in their sexual organs and bombing schools to meet with Israel's president," wrote the group, headed by human rights attorney Eitay Mack.