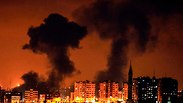 IDF strike in Syria
Photo: AFP
A senior IDF source revealed on Tuesday that over the past year-and-a-half the army has carried out approximately 200 attacks in Syria.

According to the official, the strikes targeted mainly advanced weapon systems and infrastructure sites belonging to the Iranian Revolutionary Guards located in Syrian territory.

In total, some 800 missiles and bombs were launched at targets on Syrian soil, the majority by IAF fighter jets.

Israel has repeatedly stated that it will not tolerate an Iranian military presence of any kind in Syria, which has been supporting President Bashar Assad's regime and abetting terror proxies such as Hezbollah in the ongoing civil war.

According to regional sources, Israel began carrying out military strikes in Syria in 2013 against suspected arms transfers and deployments by Iranian forces and their Lebanese Hezbollah allies, both Damascus's partners in Syria's civil war.

While Israel rarely takes responsibility for such strikes, the IDF has at times admitted to hitting arms convoys heading for the Shi'ite Hezbollah organization.

In addition, sporadic errant rocket fire on Israel's Golan Heights in Syria's civil war, which had claimed hundreds of thousands of lives and made millions homeless, has been met by the IDF with strikes.

Israeli Intelligence Minister Israel Katz used a speech on Tuesday to give a more general summary of Syria missions, prompted by a military briefing given to local media earlier in the day.

"Only just now it was published—in the name of military sources, so I can quote it too—that in the last two years Israel has taken military action more than 200 times within Syria itself," Katz told a conference hosted by the IDC Herzliya college.

"Understand the significance of this matter in terms of preserving the red line, preventing the things that Iran has done, is doing and is trying to do against Israel from Syria."

Asked to confirm Katz's comments, an Israeli military spokeswoman said Israel had carried out around 200 attacks within Syria over the past year and a half.
Hamas replenishing rocket stockpile
As negotiations continue between Israel and Hamas to achieve a long-term ceasefire on the southern border, which have been accompanied by an unofficial moratorium in the launching of incendiary balloons and rockets from the Gaza Strip, the IDF still believes that the talks will more likely end in an escalation of hostilities.
The most sensitive issues are still far from being resolved, such as Hamas's demand to expand Gaza's fishing zone, Israel's demand that the terror group release two captive Israeli citizens and the bodies of two fallen IDF soldiers in return for the building of sea ports or airports for Gaza in the Sinai.
According to the IDF, four years after Operation Protective Edge, Hamas is still uninterested in seeking a military conflict with Israel, but it has fully replenished its rocket supply that was decimated during the 2014 summer offensive. However, the effects have proven longer lasting of the IDF's strikes on Hamas's naval capabilities and its underground terror network.
In addition, the IDF has recently completed a third of its subterranean anti-tunnel barrier, which by the end of the year will be finished at a length of 65 kilometers along the Gaza border.
Over the last year, the IDF has discovered and destroyed around 15 terror tunnels that had been dug into Israeli territory.
According to the IDF assessment, the terror group still has a single number of terror tunnels that are yet to be neutralized.
In addition, as IDF source say that those who suggest applying massive military pressure on the strip will lead to a cessation of terror activity, is mistaken.
"The terror accompanies Israel since the state was established and it will continue to accompany us for years to come. We are working against it in a decisive, systematic and ethical manner. Flattening entire neighborhoods will eventually lead to the dismantling of the army and society," asserted the source.
"Those who say that more shells will stop the terror are selling delusions to the general public," the source concluded.