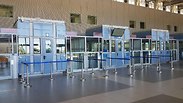 Erez border crossing
Photo: Yoav Zitun
Erez border crossing closes due to violent clashes
Following riots at Gaza Strip's main personnel crossing with Israel, which resulted in heavy damage to infrastructure, IDF announces closure of crossing until damages are repaired; entry in humanitarian cases is allowed with approval on individual basis.
Israel closed on Wednesday the Erez border crossing in the northern Gaza Strip following violent riots which erupted on the Palestinian side of the checkpoint on Tuesday.

According to the IDF Spokesperson Unit, hundreds of people participated in the riots, reportedly hurling rocks at the crossing which resulted in severe damage to the infrastructure. The IDF said they responded with tear gas and live fire.

The crossing is closed until damages are repaired. Entry will be allowed in humanitarian cases only and will be approved on an individual basis.

On Tuesday, the Health Ministry in Gaza reported that several Palestinians were wounded by Israeli fire as they protested near the territory's main personnel crossing with Israel.

Such protests are rare at Erez, the only terminal for travel into Israel or the West Bank from Gaza.

In addition, another incident occurred in the area yesterday, which saw a Palestinian man attempting to breach the border fence, but he retreated into the strip after being fired upon by Israeli forces.

In light of the ongoing negotiations for a long term ceasefire arrangement with Hamas, the IDF refrained from proactively announcing the riot had taken place, and reports of the events came to light only after the Palestinians released a statement regarding the closure of crossing.

Last month Israel also partially closed the Erez crossing in response to violent demonstrations staged by the residents, and following a delay in the reaching of an expected ceasefire agreement with Hamas.

Defense Minister Avigdor Lieberman recently addressed the relative calm along the southern border and its implications on the crossings closure.

"Recently, we have seen that Hamas is in complete control of what goes on here. All the violence has decreased to almost zero," he stated.

"I am trying to form the equation between security quiet and economy. If there's terror, there's no economy. If there's no terror, there will be an economy," the defense minister explained.

"There has to be a direct connection. That is the important message that we are trying to communicate to the Gaza residents, to the average Gazan who is concerned with making a living and who thinks about how to provide for his family," he continued.

"Therefore, if there is quiet … border crossings will remain open. If there is no quiet, they will be closed."

Associated Press contributed to this report.