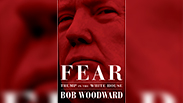 Bob Woodward's "Fear: Trump in the White House"
Photo: AP
US President Trump warned Syria on Wednesday not to "slaughter" millions of innocent civilians trapped by government forces in the country's last major rebel-held enclave, while denying claims in a new tell-all book that he wanted to assassinate Syrian President Bashar Assad last year in the wake of a suspected chemical attack on rebel groups.
Trump addressed the situation in Syria's rebel-held Idlib province during a White House meeting with the emir of Kuwait. "Slaughter cannot occur," Trump said in reference to the crisis in Idlib, where rebel forces and millions of Syrian civilians have taken refuge following a major government advance this year.
Trump warned that "If it's a slaughter" the US and the entire world are "going to get very, very angry." The American president's fresh warning followed a White House promise to respond "swiftly and appropriately" to an expected offensive by President of Syria Bashar Assad against some 3 million civilians in the opposition stronghold.
But the offensive is already underway: The Russian Defense Ministry said Wednesday that four of its jets bombed a weapons depot and launch pad for drones used by an al Qaeda offshoot based in Idlib. Moscow accuses the militants of deploying the drones to target Russian military bases in Syria.
The Russian Defense Ministry noted that the airstrike targeted jihadists alone and that Russia did not attack residential areas, but according to a Syrian report, 13 civilians, including six children, were killed in the bombing.
The Russian Foreign Ministry said that Russia was committed to fight the terrorists in Syria "until their final and complete liquidation."
The US president's comments came as the 10 non-permanent members of the UN Security Council issued a joint statement Wednesday urging a peaceful solution in Idlib, where a major Syrian military offensive with Russian and Iranian backing has been building for months.
While Russia, which holds a permanent seat on the council, did not support the statement, the non-permanent members warned that a full-scale military operation will lead to "a humanitarian catastrophe."
The US ambassador to the United Nations, Nikki R. Haley also said she'll chair a Security Council meeting Friday on the Idlib crisis, asserting that the Assad "regime and its backers must stop their military campaign in all its forms" and allow UN.-led political negotiations over Syria to proceed.
Moscow claimed that four of its jets struck targets linked to an al-Qaida-linked group, including a weapons depot and a launch pad for drones that Russia says have targeted its military bases in Syria.
The Russian military says it has shot down dozens of hostile drones. The Russian planes took off from the Russian air base near Latakia, and resumed its attacks on the province following a 22-day truce. The Syrian regime is also bombing rebels in the northern Syrian province.
Trump also denied claims that he had ordered the assassination of Syrian President Bashar Assad following a chemical attack by the Syrian army, as reported by famed Watergate reporter Bob Woodward in his the new book.
The book, titled "Fear: Trump in the White House," is the latest to detail tensions within the White House under Trump's 20-month-old presidency. It portrays the US president as prone to profane outbursts and impulsive decision-making, painting a picture of chaos that Woodward says amounts to an "administrative coup d'etat" and a "nervous breakdown" of the executive branch.
According to the book, on April 4, 2017, an upset Trump phoned US Defense Secretary Jim Mattis after photos showed a sarin gas attack on Syrian rebels. Women and children were among dozens killed and photographed. The attack was blamed on Syrian President Assad.
"Let's f—ing kill him!" Trump said. Woodward quotes Mattis as telling the president he would get right on that.
The Pentagon chief hung up and told a senior aide, "We're not going to do any of that."
The book also quotes Mattis, after a contentious National Security Council meeting on Jan. 19 this year, as saying Trump acted like, and had the understanding of, "a fifth or sixth-grader."
Woodward talks with Trump about the book
In a statement made on Tuesday, Mattis dismissed the book as "a uniquely Washington brand of literature" and said the contemptuous words about Trump attributed to him "were never uttered by me or in my presence."
White House spokeswoman Sarah Sanders said the book was "nothing more than fabricated stories, many by former disgruntled employees, told to make the president look bad."
Haley, the US ambassador to the UN, cast doubt on the account about Assad. "I have the pleasure of being privy to those conversations ... and I have not once heard the president talk about assassinating Assad," Haley told reporters on Tuesday.
Asked whether he wanted Assad to be killed, Trump told reporters: "That was never even contemplated. Nor would it be contemplated."