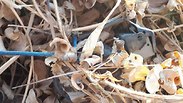 Hand grenade found in a peanut field
Photo: Israel Police Spokesperson
A locked hand grenade connected to a balloon was found Monday afternoon on Route 234, between Kibbutz Re'im and Kibbutz Urim near the Gaza border fence.

The explosive device was located near a peanut field a day before its planned harvest.

The police closed the roads in the area to traffic, and asked the public to follow police instructions and use alternative routes. In addition, the public was asked to exercise extreme caution with regard to such suspicious objects— kites and balloons— which may contain explosives and flammable substances that may endanger public safety.

The police added that "immediate action was taken to isolate the scene and additional forces were called. At this stage, the suspicious object is being handled by a police sapper."

Gadi Yarkoni, Head of Eshkol Regional Council said in response that " the terror of incendiary balloons is escalating, now with explosives intended to increase the scope of the damage."

"The field was supposed to be harvested tomorrow, disaster was avoided this time, but we realize that incendiary balloons terror did not stop, but has escalated, now explosives are attached to balloon to increase damage," Yarkoni said.


"I expect policymakers to refrain from going back to their daily routine and from taking the growing terrorism in our communities for granted. Terror must be stopped immediately, and the threat to our lives should not become routine," he concluded.

Meanwhile, the weekly "March of Return" riots in Gaza continue. About 500 Palestinians demonstrators, who massed at several points near the Gaza border fence Saturday, burned tires, and threw stones and explosive devices toward IDF forces.

According to the IDF Spokesperson's Unit, Palestinian terrorists tossed three grenades at the Karni crossing, and threw a pipe bomb in the Rafah area, targeting IDF troops.

On Friday, Gaza's Health Ministry claimed that three Palestinians, including a 14-year-old boy, were killed and at least 30 had been wounded by IDF fire in the northern Gaza Strip during weekly riots.

The IDF said in response that it used necessary force in order to prevent border breaches by some 13,000 Palestinians who gathered at several points near the fence, some of them hurling rocks and fire bombs at troops, under the cover of smoke from burning tires.

.

Also on Friday, a several balloons were discovered in a children's playground in Kiryat Gat which were affixed with what appeared to be a combustible thread that did not burn.

In addition, on Thursday, a pipe bomb was thrown at IDF troops near the Gaza border, prompting the force to respond with live fire targeting three Palestinians seen crawling along the security fence.

In all three cases there were no casualties and no damage was done.

The IDF Spokesperson's Unit issued a statement saying "Hamas continues to try and harm the defensive infrastructure of the security forces along the border fence while using civilians as shields and as cover for committing acts of terror."