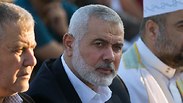 Hamas leader Ismail Haniyeh
Photo: AP
Egyptian delegation arrives in Gaza to promote renewal of talks with Israel
Intelligence officials meet with Hamas leader Ismail Haniyeh in strip; according to sources, Hamas seeks to achieve calm with Israel to take credit for easing blockade over Gaza before reaching intra-Palestinian reconciliation.
A delegation of senior Egyptian intelligence officials arrived in the Gaza Strip Saturday morning for a brief visit as part of Egypt's effort to renew the internal reconciliation talks in Gaza as well as ceasefire negotiations with Israel.

The Egyptian intelligence officials who entered Gaza through the Erez Crossing will meet with Hamas leader Ismail Haniyeh.

Palestinian sources deemed the visit as "significant and crucial."

The sources added that "Egypt's main interest is to reach an intra-Palestinian reconciliation in compliance with Palestinian Authority (PA) President Mahmoud Abbas's demand according to which he is the only Palestinian representative with whom any understandings can be reached in Gaza.

"Hamas, however, is interested to promote the ceasefire agreement with Israel (to end months of fighting that has repeatedly brought the two sides to the brink of war-ed) before reaching an internal reconciliation in order to take credit for easing the Israeli blockade over Gaza," the Palestinian sources elaborated.

"Egypt views the dead end (in ceasefire talks with Israel) as pushing Gaza towards a dangerous military escalation on the border fence.

"Nevertheless, Egypt is not willing to promote calm only to please Hamas since it has bigger international and intra-Arab interests," the sources explained.

"Egypt will need to decide how to overcome this obstacle," they concluded.

On Friday, Thousands of Palestinians demonstrated in several locations along the border fence, prompting IDF forces to respond with crowd dispersal measures.

The Palestinians said one Gaza border demonstrator was shot dead by IDF fire during the violent riots.

IDF Spokesperson's Unit said that since Friday afternoon, more than 10,000 protestors have been gathering along the border, throwing explosive devices, grenades and stones at IDF troops and burning tires.

An IDF soldier was lightly wounded from shrapnel and was evacuated to the hospital to receive medical attention.

Hamas leader Yahya Sinwar arrived to the demonstration held near Gaza City and called to continue the protests until the blockade over Gaza is lifted.

In addition, six fires broke out across the Gaza border communities amid incendiary balloons flown from the strip.

KKL, Israel Nature and Parks Authority, and firefighting teams as well as volunteers from Kibbutz Be'eri gained control over the fires.