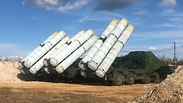 Russia says Syria now has S-300 anti-air system
Foreign Minister Lavrov claims Moscow already started supplying anti-aircraft missiles to Assad's army in response to downing of Russian spy plane; two aircrafts reportedly carrying defense system, landed over the past two days in air base near Latakia.
Russian Foreign Minister Sergey Lavrov says Moscow has started delivering S-300 air defense systems to Syria's government.

It was reported that two Russian Air Force 124 Antonov military aircrafts landed on Thursday and Friday in the Russian base near Latakia, transporting equipment and logistics, which had allegedly been loaded onto the planes along the way.

Russia announced earlier this week that it would supply the anti-aircraft missiles after Syrian forces responding to an Israeli airstrike on September 17 mistakenly shot down a Russian military reconnaissance plane, killing all 15 people on board.

The friendly fire incident sparked regional tensions. Prime Minister Benjamin Netanyahu called Russian President Vladimir Putin to express sorrow at the loss of life and sent a high-level military delegation to Moscow.

Lavrov was asked about the S-300s at a news conference Friday and responded: "The deliveries started already."

He added that "the measures we will take will be devoted to ensure 100 percent safety and security of our men in Syria, and we will do this."

A spokesman for a Russian company producing electronic warfare systems says that their deployment to Syria will help protect the country's air defense assets and fend off enemy air raids.

Vladimir Mikheyev of Radioelectronics Technologies said Friday in remarks carried by the Interfax news agency that Krasukha and Zhitel electronic countermeasure units will place Syria's air defenses under an "electronic umbrella," making it hard to spot and attack them.

Moscow also said it will start using electronic countermeasures to jam any aircraft that would try to launch attacks off Syria's coast.

On Monday, Russian Defense Minister Sergei Shoigu said that the S-300 delivery and is intended to "calm down some hotheads" whose actions "pose a threat to our troops."

"In 2013, we agreed to stop the transfer of the system to Syria due to an Israeli request. However, through no fault of our own, the situation has changed," the defense minister stressed.

Later that day, Krelmin spokesman Dmitry Peskov told journalists on a conference call that the decision to supply the weapons was "not directed at any third country". "Russia needs to increase safety of its military and it should be clear for everyone," he said.

On Sunday, during a press briefing, ministry spokesman Maj. Gen. Igor Konashenkov said the heads of the IDF do not appreciate the relationship with Moscow.

"The military leadership of Israel either has no appreciation for the level of relations with Russia, or has no control over individual commands or commanding officers who understood that their actions would lead to tragedy," Konashenkov stressed.

"The actions of the Israeli fighter pilots, which led to the loss of life of 15 Russian servicemen, either lacked professionalism or were an act of criminal negligence, to say the least," he continued.

Russia has claimed since the attack that Israel gave the Kremlin less than one minute's notice before the attack, giving the plane insufficient time to fly to safety—"a clear violation of the 2015 Russian-Israeli agreements."

RT said in its report that the IDF "failed to provide the location of their jets or properly specify their targets, claiming they were going to attack several 'industrial facilities' in northern Syria, close to the Il-20's area of operation.

"The misinformation prompted the Russian Command to order the recon plane back to the Khmeimim air base. The Israeli jets, however, instead almost immediately attacked the western Syrian Latakia province."