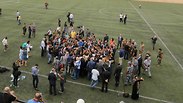 Foreign minister's tour
Photo: Reuters
Lebanon's FM: Israel seeks to 'justify another aggression'
Gebran Bassil, a political ally of Hezbollah, accompanies diplomats and journalists on a tour of three sites near Beirut airport, where Netanyahu said Hezbollah hides a stockpile of precision-guided missiles, in an attempt to disprove Israel's claims that 'falsify facts concerning Lebanon.'
Lebanon's foreign minister said on Monday that Israel sought to "justify another aggression" by making false allegations of missile sites near Beirut airport belonging to Iran-backed Hezbollah.

Prime Minister Benjamin Netanyahu, speaking at the United Nations last week, identified three locations near the airport where he said the Shi'ite group Hezbollah was converting "inaccurate projectiles" into precision-guided missiles.

Lebanese Foreign Minister Gebran Bassil, speaking to foreign ambassadors before taking them on a tour of the area, said there were "many statements ... affirming the possession of accurate missiles by Hezbollah".

But he added: "This does not mean that these missiles are present in the vicinity of Beirut airport".

Bassil accompanied the diplomats, who included Russian and Iranian envoys, and journalists on a tour of three sites near the airport, including the grounds of a top division Lebanese football team, Al-Ahed, which Israel identified as one of the sites.

Lebanon's foreign minister tour

"Although we honor international resolutions, we will not sit quietly when it comes to protecting our country and our people. We have a legitimate right to resist until all the occupied lands are freed," the foreign minister went on to say.

"Lebanon...refutes the Israeli claims, in order to prevent any Israeli attack in Lebanon that would have repercussions on the entire region." he vented.

Bassil, a political ally of Hezbollah, said Israel aimed to "falsify facts concerning Lebanon and to vocalise lies that carry the seeds of a threat that does not frighten us".

Netanyahu had used the platform of the UN General Assembly "to justify another aggression on a sovereign country like Lebanon".

According to the Lebanese news network MTV, Russian Ambassador to Lebanon Alexander Zasypkin, claimed that the foreign minister's tour "convinced us that the Israeli claims are incorrect."

The Iranian ambassador labeled the event as "diplomatic and very good." The US ambassador to Lebanon did not attend the tour.

Hezbollah, founded by the Iranian Revolutionary Guards in 1982, last fought a major conflict with Israel in 2006. The group has grown stronger since then, notably through its role in the Syrian war fighting in support of President Bashar Assad.

Hezbollah leader Sayyed Hassan Nasrallah said last month the group had obtained precision rockets despite Israeli strikes in Syria.

The Israeli military released a video clip and photos of what it said were Hezbollah rocket building sites in Beirut.

Netanyahu mentioned threats posed by Lebanon based Hezbollah several times during his speech at the UN General Assembly on Thursday.

"I have a message for Hezbollah today: Israel also knows what you're doing. Israel knows where you are doing it and Israel will not let you get away with it," he exclaimed.

"Israel will do whatever it must do to defend itself against Iran's aggression. We will continue to act against you in Syria, we will act against you in Lebanon and we will continue to act against you in Iraq ... wherever, whenever, to defend our state and to defend out people," the prime minister vowed.