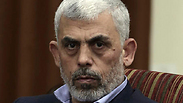 Hamas leader Sinwar: 'I don't want any more wars'
While the clashes on the Gaza border and the incendiary balloon terrorism continue unabated, Yahya Sinwar seeks to send a message to Israelis. In a rare interview to Yedioth Ahronoth and La Repubblica, he says: 'There's a true opportunity for change. War is not in our interest, but in the current situation, an explosion is inevitable.'
I know that for the great majority of Israelis, Yahya Sinwar is an enemy. A man who spent 22 years in Israeli prison and released seven years ago in the Shalit deal, only to become the leader of Hamas in the Gaza Strip shortly afterwards. That is why this interview will not be easy to read. I also know I would never be able to truly feel what you feel. But one thing I can promise: I tried to do the most professional journalistic work, ask the hard questions, and not let Sinwar off easy.

When I tell people I met Sinwar, the first question I'm asked is where did we meet: Inside a tunnel? In a secret bunker deep underground? No, I reply. Most of our meetings were in his office, in Gaza City. Sometimes we met in private, with only an interpreter, and at other times the interview was held in the presence of aides and advisors.

I spent five days in the Gaza Strip and the result is Sinwar's first interview as the leader of Hamas in Gaza to an Israeli media outlet, which will be published in full in Yedioth Ahronoth and La Repubblica on Friday.

Why did you decide to give this interview now, to an Israeli newspaper no less?

"Because now I see a true opportunity for change."

An opportunity? Now?

"Yes, now."

It appears the most realistic thing right now in Gaza is another war.

"A new war is in no one's interest, certainly not our interest. Who really wants to confront a nuclear superpower with four slingshots? War doesn't achieve anything."

But you have been fighting all of your life.

"I'm not saying I won't fight anymore. I'm saying I don't want any more wars. What I want is an end to the siege. My first commitment is to act in the interest of my people; to protect them and to defend their right for freedom and independence."

Eighty percent of Gaza's population lives off humanitarian aid and 50 percent go hungry. Don't you think you have a responsibility in this situation?

"The responsibility lies with those who closed the borders, not those who tried to reopen them. My responsibility is to cooperate with anyone who could help us put an end to the siege. In the current situation, an explosion is inevitable."

The interview took place at the midst of negotiations over a ceasefire—or a calm—between Israel and Hamas. I asked Sinwar what did he mean when talking about a ceasefire, and he gave me a laconic response: "Complete quiet, and an end to the siege."

Quiet for quiet?

"No, quiet for quiet and for the end of the siege; the siege is not quiet."

Hamas is holding captive two Israeli citizens (Avera Mengistu and Hisham al-Sayed) and the bodies of two IDF soldiers (Hadar Goldin and Oron Shaul). How important are prisoner exchanges in a ceasefire agreement?

"It's more than important, it's absolutely vital. This isn't a political question, it's a moral question. I see it as a duty. I'll do whatever it takes to release anyone who is still in prison."

What happens if this ceasefire doesn't work? After all, so far any attempt to reach an agreement has been torpedoed by the extremists on both sides.

"The agreement doesn't exist yet. Hamas and almost all of the other Palestinian organizations are willing to sign it and honor it. But at the moment there's only the occupation. It's important to make it clear: If we're attacked, we'll defend ourselves. As always. And we will have another war. But then, in a year, you'll be here again; and I'll again tell you that with war you achieve nothing."

The full interview will be published in Yedioth Ahronoth's weekend supplement on Friday.