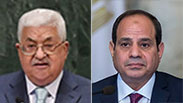 Abbas and Sisi
Photos: AFP
Egyptian intelligence chief Abbas Kamel left Cairo on Tuesday for a series of meetings in the Palestinian Authority, Israel and Jordan, during which he is expected to press Palestinian Authority leader Mahmoud Abbas to cooperate with the Egyptian-mediated indirect talks between Israel and Hamas on a ceasefire in Gaza.

According to Egyptian sources speaking to Al-Araby Al-Jadeed, Kamel will pass on a clear message to Abbas from Egyptian President Abdel Fattah al-Sisi: Either he cooperates with the negotiations, or Egypt will stop its mediation efforts.

Kamel, according to the paper, is trying to prevent further escalation by either Israel or Hamas in an effort to maintain the ceasefire until a long-term agreement is reached.

The meetings, the paper said, are meant "to resolve several issues that are stuck."

"The conditions have never been better to reach an agreement to improve the situation of the Gaza residents, but the only obstacle in the way of that is Abbas's unjustified position," one source told Al-Araby Al-Jadeed.

Earlier this week, senior Palestinian Authority officials admitted to the Associated Press that Abbas has in recent weeks thwarted a series of internationally backed initiatives aimed at rehabilitating the Hamas-ruled Gaza Strip.

With Gaza expected to be the centerpiece of the US peace plan, Abbas has given himself a virtual veto over the expected American initiative. The deadlock over Gaza appears to be a key reason behind the repeated delays in unveiling the plan.

"The US is trying to use the humanitarian situation in Gaza as a tool to implement its plan," said Mohammed Ishtayeh, a top Palestinian official. "We say that Gaza is an integral part of the Palestinian lands, and solving the problems of Gaza should be in the context of a broad political framework."

Abbas has two main concerns. First, he fears that any interim ceasefire deal in Gaza will deepen Hamas's control over the territory.

Second, after Trump's recognition of Jerusalem as Israel's capital and his attacks on the UN agency for Palestinian refugees, Abbas fears the US is trying to remove sensitive issues from the negotiating agenda. For him, Gaza is the last obstacle preventing the US from forcing what he sees as an unacceptable plan on him.