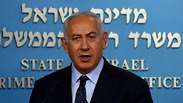 The government is expected on Sunday to vote to transfer the authorities Prime Minister Benjamin Netanyahu has concerning the giant telecom company Bezeq to Communications Minister Ayoob Kara in light of the police investigation into Case 4000.

Case 4000, also known as the Bezeq-Walla corruption affair, involves suspicions that Bezeq majority shareholder Shaul Elovitch and Prime Minister Netanyahu had a quid pro quo relationship in which Bezeq enjoyed regulatory benefits in return for favorable coverage of the Netanyahu family on Walla! News, which is owned by the telecommunications giant.

According to the decision-makers' proposal that will be brought to the government, Netanyahu, who holds a monopoly in the field of communications, will be stripped of authorities on "matters concerning Mr. Shaul Elovitch, matters concerning Eurocom Holdings Ltd. and the companies owned by it (including the Bezeq Group) and matters significantly impacting them."

The proposal, which will later be brought to the Knesset for approval, goes on to determine that "the transfer of authorities on the matters listed in this decision will be in effect as long as Mr. Shaul Elovitch is a shareholder in the Bezeq Group."

Case 4000 came to light some eight months ago with the arrest of Elovitch, his wife and son, and Bezeq CEO Stella Handler. Former Communications Ministry director-general Shlomo Filber, who was also arrested, later became a state's witness. Police has text messages, emails and recordings implicating the suspects.

Prime Minister Netanyahu, his wife Sara and his son Yair have all been questioned as part of the investigation.