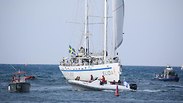 משט השלום מ שבדיה לישראל משט שלום הגיע ל הרצליה
Photo: Motti Kimchi
About two months after the Israeli navy stopped a Swedish flag bearing ship trying to "break the siege" on Gaza in the framework of one of the protest flotillas, on Thursday evening, a friendlier ship, also from Sweden, arrived on Israeli shores.

Accompanied by dozens of small vessels, carrying Israelis providing encouragement, decorated with Israeli and Swedish flags and playing Israeli tunes such as "Hatikvah" and "Hava Nagila," the yacht "Elida" arrived at the coast of Herzliya with about 50 Israel supporting Swedes.

Swedish pro-Israel flotilla (צילום: אבי חי )

Among the passengers on the 40 meter yacht were politicians, clerics, journalists and musicians. The man who initiated the project to express Swedish support for Israel with a solidarity flotilla is Stefan Abrahamsson, an Israel loving Swedish Christian businessman.

The support ship set sail on August 25 from Gothenburg, Sweden. It is expected to anchor in Herzliya until October 22. During their stay here in Israel, the ship's passengers will host Israelis visiting the site and will travel throughout Israel expressing their support for the country.

"It's great to be here at last," said Capt. Abrahamson. "It was wonderful to see all the boats that accompanied us with the flags and music. We will be here for 11 days, we came here because Sweden's image in Israel is very bad and we are here to express our sorrow over this.

"Israel is the only democracy in the Middle East that is built upon ideals which are central throughout the western world, such as equality. However, Israel is the only country which my country condemns," he continued. "We are here to tell Israelis: 'We love you,' we are standing behind you and want to show our solidarity with you.

"The yacht will be open for visits every day, everyone is invited to visit it, taste some cake and tea and talk about politics or anything else," he added. "I am already planning my next voyage here and I am sure it will be soon."

Herzliya Mayor Moshe Fadlon, who received the guests, said: "This is a very moving day; we thank them for the solidarity they are displaying here towards Israel. May there be other delegations, we will always embrace them and I believe there will be dozens of more delegations. At a time when Israel is under attack internationally, these friends are a beacon to the nations of the world."

After passing through border control, dozens of yacht passengers came ashore smiling. Most embraced almost every Israeli they came across. Others ran to their loved ones waiting for them on the platform.

"In the past four years, Sweden has been very anti-Israel and I hope this is the beginning of a better future," Irene Sherburnt, a Swedish born Israeli recalled. In the midst of the excitement and music at the marina, some of the participants broke into a Hora dance ahead of the official ceremony welcoming them to Israel.

"It was amazing to see all the boats that came to meet us. It was a lot of expectations and exciting people coming to Israel. I think that the relations between Israel and Sweden are bad. We feel bad about how our country treats Israel," said Lukas Brigham, editor of The World Today newspaper in Sweden.

During the official ceremony, Professor Dan Shechtman, a Nobel Prize winner in chemistry, said: "In politics there is no point, always a comma. That which is not good now will be better tomorrow. I am a good friend of Sweden and know it very well. We are similar, two small countries, you have had peace for 200 years and I wish that we will also have peace for 200 years."