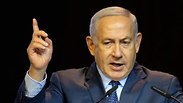 Prime Minister Benjamin Netanyahu
PM: 'Without Israel radical Islam would overrun the Middle East'
Speaking in Jerusalem before 140 foreign journalists, Netanyahu slams Palestinian President for 'rewarding terrorist'; stresses Israel is a strong democracy that also defends the rights of Muslims and Christians and praises President Trump for US Embassy move to Jerusalem.
Speaking in Jerusalem before 140 foreign journalists from 40 different countries, Prime Minister Benjamin Netanyahu strongly criticized Palestinian President Mahmoud Abbas, blaming him for rewarding terrorists.

"Look at our neighbors. Look at what President Abbas is doing. I mean, he's rewarding terrorists. Pay for slay. The more they kill, the more they get paid. He has on his law books a rule, a law that says that if you sell land to Jews – you'll be executed. Some peace and some coexistence," the premier vented.

In reference to the transfer of the US embassy to Jerusalem, Netanyahu said, "The American Embassy is close by, is actually within walking distance and it's a result of a bold and historic decision by President Trump to recognize Jerusalem as Israel's capital and move the US embassy here. I think he deserves tremendous applause for a tremendous act. President trump corrected an historic wrong. I mean the idea that we are not attached to Jerusalem is an unbelievable fiasco that you see at the UN institutions, resolutions, at UNESCO.

Netanyahu speaks to reports (צילום: אלכס גמבורג)

"This attempt to falsify history is vis-à-vis Jerusalem and vis-à-vis our connection to this land is a terrific injustice to the tribulation of the Jewish people that have made a journey that is unsurpassed by any other people.

"Israel is the only country in the Middle East where the Christian community thrives and grows. Without Israel radical Islam would overrun the Middle East easily, Israel not only protect itself nut also protects the neighborhood," he went on to say.

Addressing the Iranian threat, Netanyahu said, "Iran wants to base itself right next to Israel in order to destroy Israel. They say so openly. We will not let them do so. We back up these words with actions, including now in these days, as we speak. Nothing has changed. We'll continue to do what we need to do to protect ourselves and defend ourselves against those who would destroy us," he asserted.

"Several weeks ago the Iranians attempted to plan a terror attack against the regime in Paris," he vented.

"Iran is organizing terror cells around the world. Iran view us as the small devil, Europe is the medium devil, and the US is the big devil.

"Iran has expanded its empire through countries as Syria and Yemen. Don't give Iran the tools to destroy us," Netanyahu exclaimed.

Calling the journalists ambassadors of truth, the prime minister asked them to tell Israel's history, its present, about who wants and who does not want peace, stressing the fact Israel is a strong democracy that defends the rights of Muslims and Christians.

"People have to say the truth. You are ambassadors of truth. You're not merely the greatest ambassadors that Israel has around the world. You're champions of truth. And if there's one thing that I can ask you to do is to tell the truth. Tell the truth about our history, tell the truth about our present, tell the truth about who wants peace and who doesn't want peace," he elaborated.

"That is also applicable to what happened in the Palestinian Authority areas. You know the town of Bethlehem? Yes. You have a connection to it. We all do. And among other things, we have a connection to King David, the history of Ruth as you know, but also the story of Jesus.

"Now, Bethlehem had when we handed it over to the Palestinian Authority a Christian population of roughly 80%. Now it's about 20%. And that change happened because in the Palestinian Authority areas, as well as throughout the Middle East, Christians are being constricted, they're being pressured, also they're being persecuted," Netanyahu lamented.

When asked about American Student Lara Alqasem, who has been barred from entering the country because of alleged involvement in the BDS movement, the Israeli leader said that every country has the right to decide who can enter it.

"Every country and every democracy and many democracies have special arrangements where they decide who to let in and who not to let it. If you come in and you are virulently against America and you try to come to the United States, there's a good change you won't be let in if people know that in advance. That's also true of many of the European democracies. It's true of the democracy called Israel.

"I trust that Minister Erdan has examined that and looked into it. It's under the decision now of the Israeli Supreme Court so I'm not going to get into that. And they'll decide whether they handle it or not. If they handle it, we'll see how it develops. If they don't handle it, she'll be deported," he stated.

After Netanyahu concluded his speech, US Ambassador to Israel David Friedman took the stage.

"Ten months ago the US administration acknowledges Jerusalem as Israel's official capital. Every day in which I go to work in Jerusalem is a special experience for me, and I'm not taking it for granted.

"Not a day goes by without me thanking for the privilege given to me to serve as the US ambassador in this holy city," Friedman said.