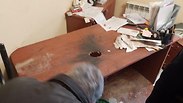 The office of president of the Jewish community of Tatarstan
Photo: Business Gazeta
An explosive envelope sent to the president of the Jewish community of Tatarstan in Russia, Mikhail Skoblionok Abramovich, went off Monday morning in Kazan, capital of Tatarstan, wounding the president and his aide, who were evacuated to a local hospital.

The police has launched an investigation, and it is not yet clear whether the motive was criminal or anti-Semitic.

However, sources familiar with the investigation said the case is being investigated as an attempted murder.




The CEO and Executive Vice President of the World Jewish Congress (WJC), Robert Singer, said he trusts local authorities to find the assailant.

"I was very worried to hear about the explosion targeting the head of the Jewish community in Kazan, Tatarstan. I wish to extend my best wishes to Mr. Skoblionk and his family and hope for a speedy recovery," Singer said.

"I have known Mr. Skoblionok for more than 25 years, and have seen that the rebirth and well-being of his community was and is, to a large extent, thanks to his personal involvement. We fully trust that the local authorities are doing all in their power to investigate and ensure that the perpetrators behind this evil and sickening act are brought to justice as soon as possible," he added.