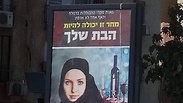 Banners of the Bayit Yehudi party calling against assimilation
Banners of the Bayit Yehudi party calling against assimilation appeared Tuesday in the central city of Ramla where Arabs and Jews coexists, sparking provocation In the midst of the upcoming municipal elections in the city.

The banner shows a young woman wearing a hijab with the caption: "Hundreds cases of assimilation and nobody cares—tomorrow it can be your daughter. Only a strong Bayit Yehudi will keep Ramla Jewish."

Joint List's candidate for Ramla's city council, Jessan Munir, threatened to file a complaint with the police if the racist banners are nor removed.

"This is racism and exploitation of racist propaganda in an attempt to gain a few votes. They (the Bayit Yehudi) don't care destroying the unique coexistence (between Arab and Jews) in Ramla as long as it brings them several more votes," he lashed out.

"We demand to immediately remove these banners. Those orchestrating this should know it will trigger violence and spark outcry," the Joint List candidate stated.

"We expect the municipal elections committee to order the removal of the banners and ask the police to get involved to prevent danger to the public," he concluded.

In addition, heads of the NGO "Sikkuy" (Chance), which promotes coexistence between Arabs and Jews condemned the incident.

The NGO called on the Attorney General to express his disapproval towards racism in election campaigns for local authorities.

.

Sikkuy's joint Chairman Ron Gerlitz told Ynet that "The Bayit Yehudi party is leading a campaign based on lies, whose all purpose is to cause a rift and drive a wedge between Ramla's residents."

"The Bayit Yehudi candidates and their PR advisors are willing to instigate violence in the city as long as it suits their interest," he went on to say.

Meretz Chairman MK Tamar Zandberg addressed the central elections committee saying, "The content of the banners violates the penal code and the prohibition of advertising incitement.

"The banners contain animosity towards Ramla's Muslim residents. The caption 'nobody cares' is a dangerous call, even if not unequivocal, to take an active action against 'assimilation.'"

Zandberg dubbed the Bayit Yehudi banners as a hateful racist campaign, which ignores the fact that after the municipal elections, Ramla's Arab and Jewish residents will have to continue coexisting side by side.

The Bayit Yehudi issued a statement saying, "The party's stance regarding assimilation is clear—the Jewish people should preserve its national character, tradition, religion, culture and heritage."

"At the same time, an election campaign should be run with dignity and respect for others," the statement added.