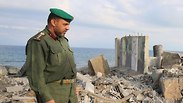 Destruction in Gaza following IAF strikes
Photo: AFP
Egypt and the United Nations are working Wednesday to prevent further escalation of violence in the Gaza Strip after rockets fired at Be'er Sheva and Israel's center prompted extensive retaliatory strikes by the IDF.

A delegation from Egypt's intelligence services, which arrived in the strip before the recent flare-up to negotiate a truce between Israel and Hamas in the wake of months of border clashes and arson terrorism, has been in talks with the Palestinian factions in the strip since the early morning hours to prevent further rocket and mortar fire in response to the IDF's attacks, Gaza sources told Ynet.

Hamas and Islamic Jihad, the two bigger organizations in Gaza, are also involved in the talks.

Western diplomatic sources said UN envoy to the Middle East Nickolay Mladenov was supposed to enter the Gaza Strip to aid in the efforts to restore calm, but cancelled his visit.

Earlier Wednesday, Mladenov met with President Reuven Rivlin, who told him, "Israel will not stand by while our people are under attack, and the world must know that. We will respond, using all necessary force, until there is calm."

So far, it appears the Egyptian and UN mediation efforts are bearing fruit, as even after four rounds of IDF strikes, during which over 20 quality targets were hit across the Gaza Strip, Hamas and Islamic Jihad have been demonstrating restraint.

The Egyptian delegation, which arrived in the Gaza Strip on Tuesday, is led by Ahmed Abdelkhaliq, who heads the Palestinian issue in the Egyptian intelligence services. He knows the Gaza Strip well, because he served there as a military attaché in the past, when the Palestinian Authority still controlled it.

The Egyptian delegation is meant to lay the groundwork for a visit by Egypt's intelligence head Kamel Abbas to Gaza, Jerusalem and Ramallah on Thursday to discuss an arrangement between Hamas and Israel, which could also include a truce.

Hamas has already put up posters thanking Egyptian President Abdel Fattah al-Sisi and Kamel Abbas for their efforts to bring relief to Gaza in several places.

The IDF placed the blame for the rocket fire on Hamas. "The rockets that were fired are self-produced and medium-ranged. Only two organizations in Gaza have such rockets: Hamas and Islamic Jihad. It doesn't matter who fired, Hamas bears the responsibility," Manelis added.

IDF Chief of Staff Gadi Eisenkot decided to cut short his trip to the United States following the rocket attack, while Defense Minister Avigdor Lieberman ordered the closure of the Kerem Shalom and Erez border crossings and the reduction of the strip's fishing zone to three nautical miles.