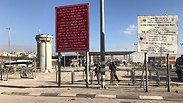 Qalandiya border crossing
Photo: Shlomo Mor
Two corporals in the Military Police were charged Sunday with looting, indecent assault and abuse of power.

One of them is a combat soldier while the other is a security examiner at the Military Police's border crossings battalion.

According to the indictment, the two stole cash money from Palestinians going through the Qalandiya border crossing near Jerusalem in recent months, as well as sexually assaulted two female tourists they were searching.

Last month, during their remand extension, the president of the Jaffa Military Court, Col. Ahsan Halabi, noted that "there are suspicions of theft done by a public servant, looting and abuse of power—with racist motives—as well as suspicions of sex offenses."

"I read the classified report issued by the investigative unit and by examining some of the evidence I reached the conclusion that at this stage there is enough alleged evidence at the required level, and even more than that, and there is clear causes for arrest that justify the detainment of the suspects," the judge added.

Cpt. Yulia Weinshnekar, who represents one of the suspects, said her client is "an excelling and valued soldier who serves in the best possible way in a complex and demanding role. As for the property offense, it was a one-time slip that is not typical of him. The soldier completely rejects all other suspicions and expects the investigation to end in a way that dismisses these suspicions."