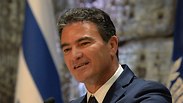 Mossad chief says high-tech not always a spy's friend
In a rare public speech, Yossi Cohen, says technology that helps to fight threats like Iranian nuclear and missile projects can sometimes uncover foreign intelligence operations; adds President Trump's approach to foreign policy is 'very pleasant for us, as the State of Israel.'
Spying is getting harder because the same technologies that catch terrorists can sometimes uncover foreign intelligence operations, the director of Mossad said on Monday.

Yossi Cohen delivered rare public remarks at a budget conference held by Finance Ministry. That suggested he may have emerged from the shadows to safeguard the funds and personnel allotment that, according to Haaretz, have made Mossad "the second largest spy organisation in the West" after the US Central Intelligence Agency.

Cohen described Mossad as the tip of Israel's spear against threats like Iranian nuclear and missile projects and Iranian backing for Hamas militants.

But, outlining challenges to covert Mossad officers such as facial recognition technology and digitally enhanced identification documents, he said: "Everywhere we go, we have to take into account the fact that security services are getting stronger.

"For normal people, this (technology) is good. For people who don't want it so much, the matter is of course a challenge of a different order."

"You can imagine that a large part of the agency's problems or challenges speak to the fact that your passport is, essentially, in your fingerprint, in your retina, or in your face," Cohen said, describing such measures as often designed primarily for counter-terrorism rather than counter-espionage.

"This arena, which very much affects us, has changed beyond recognition and is ballooning."

In 2010, the United Arab Emirates accused Mossad of killing a Hamas arms procurer in Dubai and published CCTV video of the fugitive hit team as well as their forged Western passports—an embarrassment for Israel, although it declined comment.

Since Cohen took over in 2016, Mossad is widely believed to have assassinated Hamas men in Malaysia and Tunisia. In neither incident was Dubai-like footage made public—an indication that the killers eluded surveillance.

Cohen praised US President Donald Trump, who has withdrawn from the international nuclear deal with Iran and recognised Jerusalem as Israel's capital—moves that, respectively, dismayed Washington's major European allies and angered Palestinians, who claim east Jerusalem as the capital of a state they seek.

Cohen said various powers' handling of Middle East hotspots like Syria "is, of course, very much affected by the change in approach since President Trump took office, which, I think, is very pleasant for us, as the State of Israel.

"There is a kind of feeling—including in me—that there is a differentiation, between the good guys and the bad guys, being done in a more dichotomous, simpler and clearer manner."