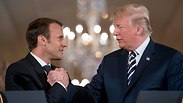 Macron and Trump
Photo: AP
'If US doesn't present peace plan after midterms, France will'
French President Macron intends to press US President Trump to present his Middle East peace plan after the upcoming midterm elections. If Trump fails to deliver, Paris will present its own plan, according to the Foreign Ministry's Political Director Alon Ushpiz.
If US President Donald Trump fails to present his peace plan in the weeks following the US November 6 midterm elections, French President Emmanuel Macron intends to present his own peace plan, the Foreign Ministry's Political Director Alon Ushpiz said Monday in a secret discussion at the Knesset's Foreign Affairs and Defense Committee.

Ushpiz told MKs that the Foreign Ministry is aware of the French plan, and that "very soon after the (US midterm) elections, the French will demand Trump to present his plan or they would present theirs."

According to Ushpiz, Jerusalem believes the Democrats will come out ahead in the midterm elections, something that would undoubtedly have a significant effect on Israel.

"A third of Congress members are going to be replaced, and it is unclear if they are all on our side. In fact, we will be starting from zero, and what we had since Trump had taken office is going to change—and we must prepare for that," said Ushpiz.

Despite that, Ushpiz the State Department's strategic goal is to keep Israel a bipartisan issue. "We're making great efforts and investing a lot of energy in that," he said.

When asked by one of the MKs about Trump's comment that he could press Israel as he is pressing the Palestinians, Ushpiz said he was not familiar with such a statement, and that the Foreign Ministry does not know what the American peace plan entails.

Ushpiz warned that Israel was losing the support of Jewish communities in the US. "We are facing a challenge with the young Jewish generation, which is less identified with Israel," he said.

He called on the MKs to meet with members of the Jewish communities in their travels to the US. "It doesn't help if you meet only with the Evangelicals, they support us. But among the others, we're not in a good situation," Ushpiz added.

Israel, Ushpiz said, had a serious PR problem when it comes to the situation in the Gaza Strip. "We can't convince (foreign) diplomats and government officials who visit Gaza. They go in there and come out in shock. Facing the humanitarian situation in the strip, our people can't do much," he explained.

But the diplomatic effort to convince other nations to move their embassies to Jerusalem is high on the list of the Foreign Ministry's priorities, Ushpiz noted.

Ushpiz also reviewed the next stage of the sanctions against Iran, telling MKs that Tehran's economy "will suffer a significant blow. The economic situation there is catastrophic, and we don't remember a similar departure of foreign companies from Iran in the past. The sanctions are effective, because no one in the world wants a conflict with the US."

MKs were surprised to learn that the current diplomatic crisis with Jordan—over territories leased to Israel under the peace treaty that Amman seeks to reclaim—was not part of Ushpiz's briefing.

"We have a strategic relationship with Jordan, and we need to ask ourselves what we prefer: To fight over what had happened or to continue our long-term relationship. We have a whole year to get them off it, and we need to understand that what they say to us in private isn't what is being told to the media," he responded.

The Foreign Ministry said in response that "the report is ridden with errors and inaccuracies. There are things that are simply not true, and unfortunately we cannot elaborate due to the secret nature of the forum."