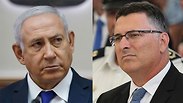 Netanyahu and Sa'ar
Photo: Alex Kolomoisky, AP
Sa'ar: PM 'crossed red line' with conspiracy accusations
Former interior minister says Netanyahu's 'scheming advisors' are the ones who are pitting the two against each other and 'injecting poison into the party's veins'; prime minister's associate calls Sa'ar's comments 'hysterical vitriol,' which proves he is 'a saboteur.'
Former Interior Minister Gideon Sa'ar responded Thursday to Prime Minister Benjamin Netanyahu's accusation that he had conspired with President Reuven Rivlin to overthrow the prime minister, calling the outburst a "grave crossing of the red line."
In an interview with the Dekel-Segal program on Army Radio, Sa'ar implied that Netanyahu is being influenced by his advisors.
"I helped Netanyahu to reclaim the power and I was never one of his enemies. Unfortunately, he is surrounded by scheming advisors who whisper in his ear. This does not do any good for the Likud party and it's injecting poison into the party's veins," Sa'ar vented.
"I call on the prime minister to present me with the evidence. I have become the threat to the regime. I told my wife that we should not approach any foreign consulates," the former minister exclaimed.
A close associate of the prime minister issued an immediate response, calling Sa'ar's comments "hysterical."
"Gideon Sa'ar's hysterical reaction and his vitriol against Prime Minister Netanyahu only prove that he is a saboteur, who tried to oust Netanyahu against the will of the Likud voters," the associate bemoaned.
The source went on to say that Sa'ar's "lust for power" forced him to become the initiator of the alleged conspiracy.
"He wasn't careful for the past few weeks and he revealed his plan to oust Netanyahu, once the prime minister leads the Likud party to victory in the elections, to various ministers and MKs," explained the associate.
Netanyahu made the initial accusations on Wednesday, without explicitly mentioning the former interior minister by name.
"It has come to my knowledge over the past few weeks that a former Likud minister is speaking with coalition members in an attempt to undermine me.
"He wants me to lead the Likud to an overwhelming victory in the upcoming elections, and then make sure that I'm no longer the prime minister, against the will of the Likud voters, against the will of the public and against democracy," Netanyahu lashed out.
"I travel across the country and see the huge support, me and my wife, receive—the magnitude of which—I haven't witnessed since I entered politics.
"Therefore I know this plot doesn't stand a chance because the public will not allow it to be implemented. However, it did expose a loophole in the law and we will figure out how to handle it," the prime minister concluded.