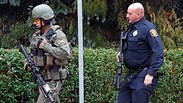 Police at the scene of the shooting
Photo: AP
'We're pinned down by AK-47 fire from out the front of the synagogue'
Recordings of radio conversations between policemen who arrived at the scene of the Pittsburgh shooting, reveal officers could not reach victims and requested SWAT teams to assist them with taking down perpetrator, who held security forces at bay for hours; people all over US gather to express solidarity with victims.
The recordings of radio conversations published Sunday between police officers, who arrived at the scene of the Tree of Life Synagogue shooting, reveal the officers could not get near the scene of the attack and assist the victims for a significant amount of time, due to being "pinned down" by AK-47 fire.

"Hold the perimeter … we're under fire, we're under fire. He's got an automatic weapon, he's firing at us from the synagogue … we're taking on AK-47 fire," Officer 1 can be heard shouting on the radio to his colleagues.

Recordings of radio conversations between police officers

The dispatch then proceeds to request all available units to immediately assist the officers at the scene, to which one officer replies: "I need city and county SWAT, city and county SWAT."

"We're pinned down by gunfire, he's firing from out of the front of the building with an automatic weapon … we can't get any closer," Officer 3 can be heard saying in despair.

On Saturday evening, thousands of people in Pittsburgh jammed an intersection amid a light rain for a vigil for the victims of a shooting at the synagogue earlier that day. The gathering included prayers and singing of Hebrew songs in memory of those killed and wounded. Many wept and embraced, and had stayed at the site of the vigil for hours after it was over.

Vigils for shooting victims (צילום: רויטרס)

Following the shooting, thousands of people from all over the United States—Jews and non-Jews—posted condolences and messages of support via various social media networks, as well as condemnation of what has been described as the worst anti-Semitic attack in the US history.

In the cities of Washington and New York, people gathered outside to express their sadness and solidarity with the victims. While at Union Square in Manhattan many came out to express their dismay by singing peace songs in Hebrew, lighting candles and praying.

Gila Franklin Siegel, a senior member of the Jewish community in Washington, described the attack as "every Jew's nightmare."

"It's the nightmare of every Jew—to be attacked in a synagogue on a Saturday morning, when you are there praying with your family," she bemoaned.

President Donald Trump has ordered flags at federal buildings throughout the United States to be flown at half-staff in "solemn respect" for the shooting victims at the Tree of Life synagogue.

Trump issued the proclamation late Saturday, shortly after returning to Washington from speaking at the Future Farmers of America convention in Indianapolis and a campaign rally in Murphysboro, Illinois.

Throughout the day, he expressed sorrow, called for justice and bemoaned hate, getting regular updates on the shooting, but said cancelling his campaign appearance would make "sick, demented people important."

In a pair of tweets, Trump said, "All of America is in mourning over the mass murder of Jewish Americans at the Tree of Life Synagogue in Pittsburgh. We pray for those who perished and their loved ones, and our hearts go out to the brave police officers who sustained serious injuries."

"This evil Anti-Semitic attack is an assault on humanity. It will take all of us working together to extract the poison of Anti-Semitism from our world. We must unite to conquer hate," he stressed via his social media account.

In addition, the president told a crowd at a political rally in Murphysboro that "the evil anti-Semitic attack is an assault on all of us." He said: "This was an anti-Semitic attack at its worst."

In the proclamation, Trump called for the flags to be lowered until October 31. Earlier on Saturday he told reporters he would travel to Pittsburgh, but offered no details.