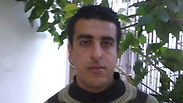 Court convicts terrorist of manslaughter, not murder
Mamdouh Amro was convicted of manslaughter instead of murder of Eliav Gelman, an off-duty IDF reservist officer who was killed by stray bullet meant for terrorist while helping to neutralize him; court finds Amro responsible for the death, but majority opinion determines it was not possible to prove intent.
The Judea Militart Court acquitted terrorist Mamdouh Amro of murder on Wednesday, convicting him instead of manslaughter for the death of off-duty IDF officer in reserves Eliav Gelman, who was hit by a stray bullet aimed at the terrorist.

In February 2016, Mamdouh Amro, 26, from the Hebron-area village of Dura, arrived by foot at the Gush Etzion junction. After arousing the suspicion of troops stationed there, he started running toward the bus stop at the junction while brandishing a knife. Gelman was among the civilians at the bus stop. He drew his firearm and charged at the terrorist. While helping neutralize the terrorist, Gelman was hit by a stray bullet aimed at the terrorist and was killed.

The court found Amro responsible for Gelman's death, as the gunfire was the result of his actions. But while one judge supported convicting the terrorist of murder, the other two determined it was not possible to prove the terrorist arrived at the scene of the attack with the intention to kill.

Gelman's family called on the judges to sentence the terrorist to death. "Even if the terrorist's hands and feet are cut off, and he's left to rot and die in agony, it won't change our situation, it won't comfort or despair, and it won't calm the pain," the family said. "We demand the death sentence. The issue of capital punishment to terrorists is of national and public important, it's for the benefit of the people of Israel—so every damned man or woman trying to harm a Jew know that is the punishment."

Attorney Haim Bleicher from the Honenu NGO, who has been providing the family with legal counsel, rejected the court's ruling, saying "the attempt to seek intention by a terrorist, when it's clear that terrorist is part of those seeking to exterminate Israelis, is incomprehensible and unacceptable. The terrorist's objective was to murder, and unfortunately he was able to achieve this goal. We call on the prosecution to appeal the ruling, so that the murderous terrorist is punished."

Defense Minister Avigdor Lieberman echoed these sentiments, writing on Twitter: "I believe, just like the military prosecution and the president of the Military Court, that a terrorist who runs brandishing a knife in an effort to murder soldiers and civilians should be convicted of murder. Clear and simple. And I'm sure in the end, this is what's going to happen."