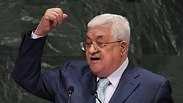 Palestinian Authority President Mahmoud Abbas
Photo: AFP
PA wages campaign against Palestinians selling lands to Jews in east Jerusalem
After Palestinian Authority detains east Jerusalem resident on suspicion of selling lands to Jews, security forces raid Palestinian General Intelligence offices, confiscating computers and documents; 2 Palestinians wounded during the raid.
The Palestinian Authority (PA) has been waging a fierce campaign against Palestinians selling real estate and lands in east Jerusalem to Jews.

The campaign began several months ago when the PA decided to launch an all-out-war against east Jerusalem residents, who sold lands to Jews and right-wing NGOs, which the authority deemed as treason.

The investigations against east Jerusalem residents suspected of making real estate deals with Jewish citizens are led by PA officials in cooperation with the Palestinian defense establishment, which at times illegally operates from within east Jerusalem.

Meetings with the attendance of extended Palestinian families from east Jerusalem villages took place over the past month, during which discussions were held how to eradicate the selling of lands to Jews.

The pressure applied by the PA senior officials in east Jerusalem prompt the families to hold the meetings.

Issam Akel, 53, an east Jerusalem resident, who holds a blue card (which grants all residential rights in Israel except for the right to vote for the Knesset), was detained by the Palestinian Authority's General Intelligence at the beginning of October.

Akel's wife told Ynet and Yedioth Ahronoth that while being in Ramallah, her husband was asked to immediately arrive at the General Intelligence's offices on the pretext he needs to sign a document.

She added a week went by without anybody knowing Akel's whereabouts. Following that time, the General intelligence confirmed the 53-year-old man had been detained. However, his wife was not allowed to meet or speak with him.

Since Akel is an American citizen, his wife turned to the US consulate in Jerusalem, and only then she was allowed to meet her husband.

"His mental state is bad. He wanted to be examined in the hospital, but they did not let him go," she explained.

In response, the police detained Adnan Rit, the Governor of the Jerusalem District of the Palestinian Authority and Jihad Al-Faqeeh, the head of Palestinian intelligence in the city.

Both Rit and Al-Faqeeh were released shortly thereafter. Nevertheless, Akel remains in detention in Ramallah.

On Thursday evening, Rit was detained for further questioning after the police raided a conference held by the PA in the neighborhood of Ras al-Amud in east Jerusalem. He was released several hours later.

Two Palestinians were wounded on Sunday while trying to prevent the security forces from entering Rit's office to search it.

Computers and documents, which were confiscated during the search, were taken for examination.