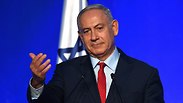 Prime Minister Benjamin Netanyahu.
Photo: EPA
The gospel according to Netanyahu
Op-ed: This week we learned that the occupation is bull. Netanyahu puts us in line with historical empires, and the only thing that matters to him in foreign affairs is power. But the choices are not to either be a wolf or a lamb. It's possible to not get eaten by wolves without eating lambs.
Many of us have been wondering throughout the years: What is the occupation? Is it conquering territories from another country, or perhaps a return to the patrimony? Is it the continued elimination of human rights in the West Bank, or a political bargaining chip? On Monday, we learned we can stop wondering.

During a Likud faction meeting, Prime Minister Benjamin Netanyahu asserted that "the occupation is bull." In other words, it's fake news. There will be nothing, because there was nothing. It is unclear whether this spot-on definition is based on the Yesha Council's 2015 pamphlet ("Occupation, bull") or perhaps the prime minister came up with it on his own. Whatever the answer may be, it seems this bull, nonsense, which has been disturbing our peace for over 50 years, doesn't exist. So, relax.

Why is the occupation bull? Well, contrary to what his settler friends believe, it isn't because the time we weren't in control over the territories was but a mere break (2,000 years long) in our sovereignty, or because God promised the entire country to us about 3,000 years ago (and promises need to be kept). The reason it is now bull, is that "Strength is the key; it makes all the difference in our policy towards the Arab world." In other words: The only thing that matters in foreign affairs is power.

Actually, it sounds familiar. There have been many leaders who told their people and neighbors just that: Not only is occupation bull, morality is also bull. Might is right, and those who have might do as they see fit. Those who have no might have some reservations about this claim, but after all, they have no might. So stop the bull.

Netanyahu also told his faction friends about the historical context: "There are massive nations that conquered and displaced entire populations and the world keeps silent." Power, power, power.

Let's try to understand this thesis a little bit better: First of all, Netanyahu is not really comparing us to small or medium-size countries. The comparison is to massive countries, and in other words: empires. Israel must be an empire then (and Netanyahu the emperor, apparently).

Throughout history, empires have indeed done unacceptable things, and as long as they had the power, there was no one to save their victims from their claws. They didn't stop with occupation and exile (what Netanyahu called gently: "population replacements"). More than once they carried out massacres and genocides. Now think of one massive country—the Thousand-Year Reich. It conquered and murdered out of complete faith in its path. "No one talks about them"? Well, people do talk about them. I can only assume that what he meant was that as long as these empires existed, talk was bull.

As a professional historian, I have a few notes for the prime minister. First of all, Netanyahu is right in saying that the world is not a debate club or an auditorium in the humanities building. The world is full of wolves, and it isn't a good idea to be a lamb. Power is important. A country that is easy and cheap to conquer will soon become prey. But that doesn't mean that the choices are to be a wolf or a lamb. Wolves, for example, don't eat hedgehogs. It's possible to not get eaten by wolves without eating lambs.

Secondly, "What is permissible for Jove is not permissible for a bull." Small and medium-size countries cannot act as though the world belongs to them. The world belongs to giants.

Thirdly, the assumption that power today means power tomorrow is wrong. Look at the giants of the past. More than once their intoxication with power cost them (and others) dearly.

And lastly, the occupation is not only a foreign affairs diplomacy business that the emperor deals with. It has a huge impact on the values and the character of Israel. It isn't bull.