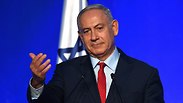 Prime Minister Benjamin Netanyahu
Photo: EPA
Netanyahu let Hamas win
Op-ed: Netanyahu is responsible for the failure of Israel's policy in Gaza, not just this week, but in his nine years as prime minister. The premier's only policy in Gaza is to perpetuate the present situation and recently, cracks have begun to show and his devout followers are starting to take notice.
The time has come for us to understand what every child in Gaza already knows: Prime Minister Benjamin Netanyahu wants Hamas to stay in power. Because the alternatives to Hamas do not suit him, he prefers Hamas to stay in charge.

Netanyahu refrains from taking over Gaza because he does not know what to do with it on the day after. He rejects the rehabilitation of the Gaza Strip, because he doesn't want to be responsible for the attack that would come from a reconstructed strip. He blocks the entry of the Palestinian Authority into Gaza because having the West Bank and Gaza under the control of two weakened and hostile Palestinian factions is convenient for him. It is not a matter of divide and conquer, but of divide and flounder.





The way the political leadership decided to end the recent round of fighting was scandalous. Every member of the Cabinet pretended to be Rambo, and none of them was willing to take responsibility for a military move. "Liar," Netanyahu says of (now former) Defense Minister Avigdor Lieberman; "No, you're a liar," Lieberman says of the prime minister; "No," says Education Minister Naftali Bennett, "you're both liars."

We had divided Cabinet meetings in the past, during wars and between wars. It's not the first time we hear about accusations flying around and information leaks, but rivalry between Cabinet members had seldom reached such a low point.

The ministers of the current government frequently complain about the professional ranks, claiming they prevent them from governing. Cabinet member Ayelet Shaked wears this argument like a badge of honor.

On Tuesday, Shaked and her colleagues chanced upon a golden opportunity: Hamas fired its 460 rockets at Israel. Each Cabinet member promoted his/her own deadly, perfect solution for the escalation on the southern front. And then—silence. None of them demanded to put their marvelous plans to a vote. These "glory seekers" hid under IDF uniforms.

The problem did not arise from this week's 48 hours of fire. The prime minister—who during the 51 days of Operation Protective Edge learned that bombings can't bring down Gaza—came to the right conclusion: It's better to reach a ceasefire as soon as possible, with minimal casualties, and minimal damage.

Netanyahu is responsible for the failure of Israel's policy in Gaza. Not just this week, but in his nine years as prime minister. It's not true that Netanyahu has no policy, he does have one: he is a devout believer in perpetuating the present situation—saying yes to Hamas, and no to rehabilitating Gaza. Unfortunately, the recurring fighting rounds are part of the existing situation.

As in every round, the IDF is flaunting the damage it caused in Gaza—so many headquarters and houses have been destroyed. This is an empty claim, since no one in Israel—even at the far right—is admiring the houses bombed in Gaza. Hamas itself is not afraid of the sight of bombed buildings. Nevertheless, in every single round, the IDF claims it dealt a fatal blow to Hamas. A few months pass, and the phoenix rises again.

The premier built his election campaign on his own personal success. World leaders admire him; the Iranians are afraid of him; Hamas is deterred; Abbas is humiliated; and the country is safe—only he can do this.

In recent weeks, cracks have begun to show, and even Netanyahu's "base," including those who demonstrated in Sderot against the government policy in Gaza, understands this.