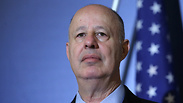 Minister Tzachi Hanegbi
Photo: Alex Kolomoisky
Hanegbi blasted for downplaying Gaza attacks on south
Minister Tzachi Hanegbi says over 460 rockets fired from Gaza at southern Israel were a 'minor' response to the botched IDF mission in the strip, noting there is a difference between attacking the South and attacking Tel Aviv; Netanyahu rejects statement.
Regional Cooperation Minister Tzachi Hanegbi came under fire on Thursday after calling the over 460 rockets fired from Gaza at southern Israel this week "minor," noting there is a difference between attacking the South and attacking Tel Aviv. Hanegbi's comments drew widespread condemnation, including from the prime minister.

"Hamas responded (to the botch IDF mission in Gaza on Sunday) in a measured manner and attacked only the Gaza border area. There's a difference between the border area and Tel Aviv, the economic capital of Israel. Hamas's attack was minor, because (rocket) fire at Tel Aviv has different ramifications," Hanegbi said in an interview with Army Radio.

Prime Minister Benjamin Netanyahu was quick to disavow Hanegbi's comment. "I completely reject the statement that there is a distinction made between the border area and Tel Aviv. Hamas's aggression is not 'minor,' and there is no distinction made between Hamas's (rocket) fire at southern Israel's communities and fire at any other area in the State of Israel," he said.

Later, Hanegbi apologized and clarified his comments, saying in a statement: "I've never made a distinction between the lives of residents in the border area and the lives of the residents of Tel Aviv, and if this is what my comments were taken to mean, I regret that."

"What I meant in my comments from this morning was that a wide-scale campaign in Gaza would necessarily lead to many casualties among our soldiers, massive fire on Tel Aviv, serious economic damage, harm the aerial movement to Israel, and to consequences on the economy and on tourism," he continued.

"At the end of the campaign, we could have found ourselves at the exact same place we are today, and so we preferred to reach a long-term calm, as possible as that may be, without escalation, for the sake of both the residents of the south and the residents of the rest of the country," Hanegbi went on to say.

In his interview with Army Radio, Hanegbi explained that the prime minister, the Security Cabinet ministers and the heads of the defense establishment "all thought we ought to put an end to the violence in Gaza. We had two ways: one was (resigning Defense Minister) Lieberman's way, who proposed a 'serious blow' (against Hamas), while the other was an arrangement. We're in the midst of the first stage of the second option."

Explaining why the Cabinet decided to agree to a ceasefire in Gaza and continue with the implementation of the Egyptian-mediated arrangement with Hamas, Hanegbi said "a serious blow means entering a long campaign, in which every day for weeks, and perhaps longer, Tel Aviv would be paralyzed with hundreds of rockets, which we will have no way of stopping without sending our soldiers into every nook and cranny in Gaza. Ben-Gurion Airport would be paralyzed for weeks, and this would affect the economy and tourism. There are no wars without a cost. And those who don't wish to pay the price must find alternatives."

He added that Hamas "had a reason to seek revenge" after the IDF Special Forces mission inside Gaza, which led to the death of a senior IDF officer, adding Hamas "with 470 rockets only managed to kill a Palestinian."

The prime minister was not the only member of Hanegbi's own Likud party to slam his comments. Social Equality Minister Gila Gamliel told Ynet that his statement was "particularly unfortunate."

"I'm a bit surprised by Minister Hanegbi, but there is no doubt this isn't the government's policy; I don't agree with it at all, and it's safe to assume neither does the government. He needs to recant his statement, there's no doubt," Gamliel added.

Culture Minister Miri Regev, also of the Likud Party, wrote on Twitter: "Tzachi Hanegbi, my friend, you have erred. Your comment was inappropriate. Any fire that endangers the well-being and security of the citizens of Israel, in any place, must be met with a severe and identical response."

Criticism also came from the other side of the aisle, with Opposition leader Tzipi Livni calling Hanegbi's comment "outrageous," and Zionist Union leader Avi Gabbay calling on the government to disperse.

"According to Tzachi Hanegbi, Hamas must not shoot at Tel Aviv residents, but it's okay to shoot at the south's residents. According to the government, it's impossible to protect the residents of the south," Gabbay charged.