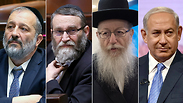 PM, Haredi MKs
Photo: Reuters, Yoav Dudkevitch, Alex Kolomoisky
The ultra-Orthodox parties in the government, Shas and United Torah Judaism, are worried by the resignation of Defense Minister Avigdor Lieberman and his Yisrael Beytenu party's departure from the coalition, which would leave Prime Minister Benjamin Netanyahu with only a one-vote majority in the Knesset.

After Lieberman announced his resignation on Wednesday, Netanyahu made a series of phone calls to senior Haredi politicians. He asked them not to issue any explicit pronouncements regarding the resignation. The ultra-Orthodox accepted his request, and refrained from publicly reacting to Lieberman's resignation.

However, behind the scenes, senior Haredi politicians estimated that even if Netanyahu gives the defense portfolio to Education Minister Naftali Bennett and the government survives the latest crisis, they would still have great difficulty with the current coalition.

One of the primary concerns for the Haredim is the fate of the IDF draft law. The government is required by the court to pass a new law by December 4, following a High Court ruling that the existing law discriminates in favor of the ultra-Orthodox.

In the past, Lieberman said he would accept any compromise that was acceptable to the defense establishment. Now that he is leaving, the Haredim understand that there is no chance of passing a new law before the appointed time.

Failure to pass a new law before the court's deadline would mean all yeshiva students, who have so far enjoyed exemptions from IDF service, would be subject to enlistment.

But if the coalition collapses before the deadline, the legislation would receive an extension until another government is formed. Therefore, some Haredi officials believe that the most palatable solution is to topple the government.

In addition, the ultra-Orthodox parties are worried that in a narrow coalition, any member can "run wild" and promote legislation that could clash with issues that are important to them, such as Jewish conversion, the Shabbat, or surrogacy laws.

"There is a difference between a coalition in its early stages—that can function with such a limited majority—but at this stage it will be very difficult," said MK Uri Maklev (United Torah Judaism).