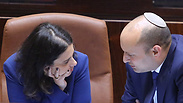 Shaked and Bennett
Photo: Gil Yohanan
Bennett, Shaked expected to resign, dragging Israel to early elections
Education Minister Bennett and Justice Minister Shaked to make an announcement at 10:30am, with political sources saying the two intend to quit the government after Prime Minister Netanyahu decided to keep the defense portfolio rather than give it to Bennett.
Education Minister Naftali Bennett and Justice Minister Ayelet Shaked are expected to resign on Monday morning, consequently bringing down the government and leaving Prime Minister Benjamin Netanyahu with no choice but to call early elections.

After Yisrael Beytenu leader Avigdor Lieberman announced his resignation from the government, Bayit Yehudi demanded the defense portfolio for party head Bennett and threatened to quit the government if the demand is not met.

On Sunday evening, Netanyahu held a press conference and announced he intended to keep the defense portfolio for himself, leaving the ball in Bennett's court.

Earlier on Sunday, Shaked set an ultimatum for the prime minister: Security or elections. "At this point, the government is no longer a right-wing government, unfortunately," she said.

"The only justification for the continued existence of the government until November 2019 is for Bennett to carry out a revolution in security, give Israel back the deterrence that was lost under Lieberman over the past two years, and help to fix the serious crisis in trust in the defense establishment. We must go to elections as soon as possible to establish a new right-wing government, headed by Netanyahu, with Bayit Yehudi being the strong party to his right, so we could finally vote Right and get Right."

However, sources close to Netanyahu said the prime minister was not willing to capitulate to Bennett's demands. Senior Likud officials, meanwhile, said Netanyahu didn't rule out giving Bennett the defense portfolio in the future, but he first wanted the education minister to stay in the government without conditions.

Netanyahu met with Finance Minister Moshe Kahlon on Sunday evening in an effort to convince him to remain in the government.

Following this meeting, Netanyahu announced he would keep the defense portfolio, prompting Bennett and Shaked to announce a press conference at 10:30am on Monday.

Bennett spoke to political officials in the coalition on Sunday evening, telling them he plans to resign following Netanyahu's decision not to appoint him defense minister. According to those officials, Bennett intends to vote in favor of the Knesset's dissolution on Wednesday "as a member of Knesset and not as a minister."

Agriculture Minister Uri Ariel, a member of the Tkuma faction inside Bayit Yehudi, said Monday morning that he and fellow MK Bezalel Smotrich supported Bennett's demand for the defense portfolio, adding that if Bennett decides to resign from the government, his faction will hold a special discussion to decide whether to join the Bayit Yehudi leader's move.

Tourism Minister Yariv Levin, a close associate of Netanyahu, held talks with members of Kahlon's party Kulanu and Bennett's party Bayit Yehudi on Sunday, telling them that "dissolving the government would be an irresponsible act, both on the security level and by bringing down a right-wing government."

Meanwhile, Netanyahu is expected to announce the appointment of ministers in the coming days. With the prime minister deciding to keep the defense portfolio, he will have to give up the Foreign Affairs Ministry. He has promised it to two ministers: Gilad Erdan and Yisrael Katz. But in an effort to avoid a clash between the two ministers, he's leaning towards a third candidate: Yuval Steinitz.

As for the Immigration Absorption Ministry vacated by Yisrael Beytenu member Sofa Landver, Netanyahu is considering giving it to Deputy Foreign Minister Tzipi Hotovely, to whom the prime minister reportedly promised an upgrade to minister at the first chance he gets.