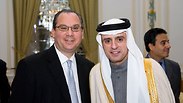 Rabbi Marc Schneier with leader of Gulf state
Photo: Rabbi Marc Schneier
US rabbi claims Gulf states 'compete' over ties with Israel
Rabbi Marc Schneier, who maintains close ties with Persian Gulf, believes we will see establishment of official diplomatic relations between Israel and the six emirates as soon as 2019; 'We will soon see the official forming of relations with Bahrain, and the rest will follow.'
Rabbi Marc Schneier, president of the Foundation for Ethnic Understanding (FFEU), who maintains extensive ties with countries in the Persian Gulf, said he has recently seen a vast improvement in relations between Israel and the Gulf states.

Schneier, who is known as a rabbi to many US celebrities, said in an interview with Yedioth Ahronoth that the six Persian Gulf emirates are competing over who will be the first to go public with their relationship with Israel, and establish diplomatic ties.

"I believe we will soon see the official forming of relations with Bahrain, and the rest will follow," he asserted.

Over the past 15 years, Rabbi Schneier has visited many palaces in Saudi Arabia, Oman, Bahrain, Qatar and the United Arab Emirates.

According to him, the Iranian threat is what stands behind the change in attitude toward Israel. "Israel and the Gulf states face the same existential threat—Iran."

However, economic opportunities is another driving force behind the improved relations.

"The current Emir of Qatar and leaders in Saudi Arabia said that the combination of Gulf's wealth and Israel's high-tech knowledge could potentially transform the region into the most successful area in the world," Schneier explained.

"If in the past it was argued that the Gulf states would be willing to establish official relations with Israel only after peace with the Palestinians is achieved, then today the leaders of these countries say that merely returning to the negotiating table will suffice," said the rabbi.

"I believe we will see diplomatic relations developing with all six Gulf states as early as 2019," he emphasized.