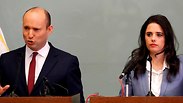 Bennett and Shaked
Photo: AFP
Bennett, Shaked stay in the government despite threats to resign
Despite threats to quit if Prime Minister Netanyahu doesn't give him the defense portfolio, the Bayit Yehudi leader decides to remain in the coalition; 'There's no apocalypse on the way. If the prime minister is serious in his words, I tell him: we remove all of our political demands and will aid you so Israel returns to winning,' Bennett says.
Education Minister Naftali Bennett and Justice Minister Ayelet Shaked announced Monday morning that they are not resigning, allowing the current government to live out its days.
The Bayit Yehudi party threatened to leave the coalition if leader Naftali Bennett doesn't receive the defense portfolio, a position vacated by Yisrael Beytenu leader Avigdor Lieberman, who resigned last week. Prime Minister Benjamin Netanyahu on Sunday evening announced he intends to keep the defense portfolio, leading many to believe Bennett would make good on his threat and leave.
Moreover, both Bennett and Shaked have complained the government has lost its right-wing character and asserted it would be hard to govern with only a one-vote majority in the Knesset.
But Bennett claimed on Monday that he did not set an ultimatum to Netanyahu. "During our conversation on Friday, I made it clear to the prime minister that I was not, in any way, shape or form, giving him an ultimatum, and accepted with appreciation his statement that he saw me as a worthy candidate for the defense minister position," he said.
Explaining his about-face, Bennett said he drew assurances from Netanyahu's speech on Sunday night. "In his speech, (Netanyahu) promised the Israeli public to change paths, to lead to a dramatic change in security, to change his direction from the past ten years towards strength," he said.
"If the prime minister is serious about his intentions, and I want to believe his words last night, I hereby notify the prime minister—we are removing all of our political demands at this time and stand with you, ready to offer assistance," Bennett declared.
"I assume this announcement will take its political toll, but we'll survive. It is better to let the prime minister win in a political battle than let (Hamas leader Ismail) Haniyeh defeat the State of Israel," he added.
Bennett asserted this is a political price he was willing to pay. "If the government goes on the right back, leads as a true right-wing government—it's worth a try. The ball is in the prime minister's court. In the coming weeks, the dramatic change to defense will be put to the test," he continued. "This test will be in actions, not words... and we won't stand as spectators examining the prime minister, we will of course help out and do our best to assist."
Describing the changes that need to happen, Bennett determined that "The State of Israel is facing a crisis of confidence in the defense establishment."
The enemies are the same, Bennett said, and "the security situation today is not more dangerous than what it was a few months ago, when the prime minister sought to bring down his government for political reasons, or because of the Israel Public Broadcasting Corporation (IPBC)."
The problem, he asserted, is internal.
"For quite a few years, including over the past decade of Netanyahu governments, Israel has stopped winning," he charged.
"I saw it with my own eyes during the Second Lebanon War as a commander in southern Lebanon. I saw the embarrassment, the confusion, the lack of determination and spirit ... Following that war, I abandoned my career in high-tech, which I loved very much, and went into politics," Bennett explained.
Bennett asserted the Israeli government, which he remains a part of, stays its hand due to fear of legal entanglement, listing several examples of instances in which the government is waiting too long to take action: the evacuation of the illegal Arab outpost of Khan al-Ahmar; legislation to stop the generous salaries paid to terrorists by the Palestinian Authority; the demolition of terrorists' homes.
"We impose countless restrictions on our soldiers—legal as well as mental. Our fighters are more afraid of the Military Advocate General than (Hamas leader) Yahya Sinwar. Instead of defeating the enemy, we are containing it. Things that were crystal clear before, are suddenly questionable," he lamented.
The Israeli government, he argued, also fails in dealing with security challenges.
"After more than 530 rockets were fired at the Israeli communities along the Gaza border, and a Cornet anti-tank missile was launched by Hamas at an IDF bus near the security fence, we tell ourselves that everything is okay and that the terror organization is as deterred as it has never been," he said critically.
"Hamas and Hezbollah are becoming more arrogant by the day, believing we are afraid to confront them. What Netanyahu describes as 'responsibility' is often perceived by our enemies as hesitancy—and the line between the two is thin," he continued. "The most dangerous thing for the State of Israel is that we've started thinking there is no solution to terrorism and rockets, but there is!"
"When Israel wants to win, we will go back to winning. (This situation) is not predestination," Bennett insisted. "We entered politics to create an alternative, to replace hesitancy with might, fatigue with initiative, embarrassment with confidence."
"We proved with actions that we could change direction," he asserted. "Before we came along, everyone thought a Palestinian state was on the verge of being established, we changed this path from the Left to the Right."
'We won't add to the gift Lieberman gave Hamas'
Justice Minister Shaked said Netanyahu had promised Bennett the defense minister's position before the 2015 election, but because Bayit Yehudi lost power, Netanyahu gave the post to Moshe Ya'alon, a Likud member at the time.
Explaining why the party joined the government anyway and why she and Bennett decided not to quit, she said "Bennett, myself and the rest of our party members are rare birds. We see politics as a calling. We believe politics is a tool to implement policy and serve the public."
"Many urged us to resign over the last few days. After Lieberman did so, there were those who were angry at us for losing the momentum. (But) we're public servants with a sense of responsibility. We'll never escape responsibility. We'll never make a political move that entails a risk," Shaked added.
She too criticized Israel's defense policy, saying "if such a policy exists, it conveys irresolution and hesitation. The Israeli daring was replaced with a policy of 'sit and do nothing.' Israeli solidarity was replaced by a policy of containment as long as it's 'only' the border residents. The pursuit of victory was replaced by the disgraceful resignation of the defense minister—a gift to Hamas that will forever serve as a mark of shame."
"We won't increase the psychological achievement Lieberman gave the terror groups in the strip," Shaked insisted. "They're watching us, and not just them—the entire Middle East is looking at us."