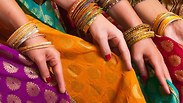 Bollywood
Photo: Shutterstock
A major Bollywood film is expected to start production in Jerusalem, after Israeli government committed to partially financing the project.
The move is part of the efforts made by the Ministry of Foreign Affairs to tighten the bonds between the film industries of the two countries.
The decision to co-finance the project was made by several government ministries that are expected to provide up to NIS 1 million. The goal is to have a Bollywood-made feature film showcasing the landscape of Jerusalem.
A BDS protest against Israeli-Bollywood cooperation
Aa Bollywood producer had reportedly already arrived in Israel and was examining potential filming locations. It is not yet clear which film will be shot in Israel.
The Indian Bollywood film industry (a term connecting the name Bombay, Mumbai's former name, and Hollywood) is the world's largest and most prolific cinema industry. In 2017, some 2,000 films were produced in India alone, 364 in Mumbai's Bollywood.
Bollywood films are considered the most popular and profitable ones in India, grossing 43% of the box office revenues across the sub-continent and in some years surpassing Hollywood in ticket sales.
In India, whose residents number more than 1.3 billion, Bollywood films draw huge crowds. The same is true throughout Asia, as well as in counties that don't have a diplomatic relationship with Israel, like Pakistan, Bangladesh and Malaysia.
Furthermore, the Indian diaspora around the world, who's slowly becoming a part of the world's elites, also follows the developments in Indian cinema.
In recent years there have been several attempts to bring Israeli and Indian cinema closer together, under the wing of different government ministries.
A video clip for a Bollywood film called Drive was already filmed in Israel, and is to be released soon.
In December 2017 the Ministry of Foreign Affairs hosted producers from five major Mumbai production companies, in order to support cooperation between the two countries in cinema. Efforts have started to bear fruit, and Israel is to be the focus of the upcoming Goa International Film Festival, held in November.
Furthermore, Israel and India signed a cooperation agreement in order to encourage bilateral film endeavors through governmental support. It culminated with Prime Minister Benjamin Netanyahu and Deputy Minister Michael Oren's visit to Bollywood film sets in Mumbai during the official visit to the country.
Following Israel's warming ties with Bollywood, the Boycott, Divestment and Sanctions movement encouraged the industry to boycott Israel, and "not to allow it to use Indian stars in order to cleanse its image, while it violates Palestinian human rights."