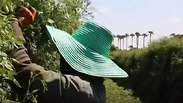 Thai workers on Israeli farms
BBC Israel's forgotten Thai workers report
Thai workers in Israel are reportedly subject to "widespread abuse" and abject neglect, which is the result of an elaborate agricultural scheme between the two governments, a BBC report alleged.
The report, titled "Israel's forgotten Thai workers," summarizes a year-long investigation conducted by Thai correspondents working for the British state broadcaster. Throughout the year, the journalists visited 50 farms in Israel and interviewed hundreds of Thai workers there.
The report suggests that the workers are subject to unsafe work practices, unsanitary living conditions in filthy and polluted environment, and that many of them are "overworked and underpaid." The report also highlighted the dozens of unexplained deaths among Thai workers.
The correspondents discovered that most of the accomodation the workers were provided by the farmers who employ them were in a horrific state.
"The walls are moldy and rotten. There are mice inside. They make a lot of noise at night," said one worker to a BBC journalist.
According to the report, the Israeli and Thai governments signed an agricultural labor agreement back in 2012, which saw 25,000 Thai workers being brought to the country to work on Israeli farms, and although technically the workers are legally protected, their working conditions depend on the farmers, who provide them with food and shelter and could terminate their employment at any moment.
Many of the Thai workers are forced to work many hours spraying pesticides without being provided protective equipment, with Israel using more pesticides per agricultural dunam than any other OECD country.
The long-term exposure to active pesticides is believed to be associated with a series of diseases—some of which could be deadly.
"There was something wrong with my body, so I told my employer I wanted to see a doctor, but he didn't want to take me," recalled the one worker, emphasizing that many are afraid to complain about their employers to a higher authority out of fear of having their work visas revoked.
According to the BBC investigation, since the agricultural agreement went into effect, at least 172 Thai workers have died in Israel, and since in most cases autopsies weren't carried out, the causes of death were classified as "undetermined."
The Ministry of Labor issued an official response to the report, saying hundreds of inspections are carried out annually on farms that employ Thai workers with the help of interpreters.
"More than 1,500 investigations have been opened since 2013—into pay and working hours. We've issued 3,000 warnings and 200 fines totalling more than $3.8 million," the ministry stressed.